Press Releases
EX-ISLE by Peter Clines
Peter Clines brings us the spectacular fifth adventure in the Ex-Heroes series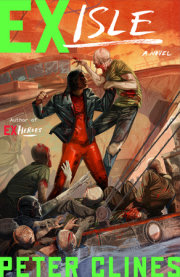 Peter Clines
Imprint: Broadway Books
On sale: February 2, 2016
Price: $15.00
Pages: 400
ISBN: 9780553418316
Contact:
Rebecca Welbourn
212-782-9634
rwelbourn@penguinrandomhouse.com
Praise for Ex-Purgatory
"With Ex-Purgatory, Peter Clines steps up from talented newcomer to seasoned master of the game. Witty, inventive, daring, and way too much fun."—Jonathan Maberry, New York Times bestselling author of Extinction Machine and Fire & Ash
"A fabulously geeky adventure about getting the superpowered band back together . . . Ex-Purgatory not only drops a host of Easter eggs for longtime fans, but it also makes for a satisfying entry point for new readers."—Kirkus Reviews
"The fourth episode in Clines' genre-blending Ex series puts an unusual twist on the superheroes/zombie apocalypse mashup. . . . Clines has always written with a pop culture sensibility, but he's got a new air of confidence in his characters and world-building that allows the series to go off at a 90-degree angle and still stay faithful to its roots."—Publishers Weekly
Praise for the Ex-Heroes Series
"Made my heart race in ways seldom accomplished by a book."—Wired.com
"I loved this pop culture–infused tale of shamed superheroes struggling to survive a zombie apocalypse in the ruins of Hollywood. It's The Avengers meets The Walking Dead with a large order of epic served on the side."—Ernest Cline, New York Times bestselling author of Ready Player One
"Zombies? Check. Superheroes? Check. Awesome? Check. Ex-Heroes has it all. You're in for a treat!"—Mira Grant, New York Times bestselling author of Feed
"Bound to appeal to fans of zombies and superheroes alike . . . If ever a book had the potential for a Hollywood blockbuster, this is it."—SF Signal
"Mesmerizing . . . I was completely floored by [Ex-Heroes'] ingenuity and charm."—Fantasy Book Critic
"Not familiar with Ex-Heroes? I envy you. You can read it and enjoy all the surprises and twists for the very first time. . . . Peter Clines has done superheroes versus zombies right. . . . These are great stories."—GeekDad
---
Peter Clines has established himself as a master of the science fiction thriller genre, with novels including The Fold and 14 which drew a cult following of ardent readers. Characterized by expert fast-paced plotting, cinematic action scenes, and tons of geek and pop culture references, Clines's genre-bending Ex-Heroes series now returns with EX-ISLE (February 2, 2016; Broadway Books), the exhilarating fifth installment. Ernest Cline, New York Times bestselling author of Ready Player One and Armada, described the series, in which superheroes face off against zombies, as "The Avengers meets The Walking Dead with a large order of epic served on the side," and EX-ISLE lives up to that statement.
In the days after civilization fell to the zombie hordes, a small team of heroes—including St. George, Zzzap, Cerberus, and Stealth—turned an abandoned Los Angeles movie studio into a stronghold against the undead and brought the last humans they could gather within its walls. Every day is a desperate battle against overwhelming odds as the heroes fight to keep the undead at bay, provide enough food and supplies for the survivors, and lay down their lives for the humans they've sworn to protect.
EX-ISLE picks up five years after the plague of ex-humans decimated mankind, and the heroes' expanded base at the Mount is still going strong. One day, while out scouting for survivors living in similar safe zones around the world, the superheroes discover something strange: a large assortment of ships bound together to form a man-made island in the middle of the Pacific. Overjoyed at discovering another group of survivors, St. George leads a small team off to introduce themselves to this new encampment. But the heroes soon realize that there's something very wrong with this isolated community and its mysterious leader—who may be hiding a secret that could put every survivor in the world at risk. Meanwhile, back at the Mount, the heroes who stay behind find themselves blindsided by an unexpected threat from within their own ranks.
Before turning his hand to writing fiction full time, Clines spent years toiling in the Hollywood trenches, working on such films and shows as Veronica Mars, Psycho Beach Party, and Mystery Woman, while also writing articles, reviews, and interviews for Creative Screenwriting magazine. The skills he's developed for propulsive pacing and action-packed sequences are once again on full display in EX-ISLE, and fans of the Ex-Heroes series will relish this latest installment.
ABOUT THE AUTHOR
Peter Clines has published several pieces of short fiction and countless articles on the film and television industries, as well as the novels The Fold, Ex-Heroes, Ex-Patriots, Ex-Communication, Ex-Purgatory, and 14. He lives and writes in Southern California.
Related Posts: