Press Releases
Ex-Heroes, Peter Clines's first novel in a genre-mashing adventure series
To be followed by Ex-Patriots and Ex-Communication, Clines's novel pits a small group of courageous, flawed, terrified superheroes against hordes of undead.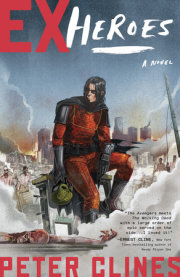 Peter Clines
Imprint: Broadway Paperbacks
On sale: February 26, 2013
Price: $14.00
Pages: 288
ISBN: 9780804136570
Contact:
Lauren Kuhn
212-782-8637
lkuhn@randomhouse.com
Praise for Ex-Heroes:
"I loved this pop culture-infused tale of shamed superheroes struggling to survive a zombie apocalypse in the ruins of Hollywood. It's The Avengers meets The Walking Dead with a large order of epic served on the side."—Ernest Cline, New York Times bestselling author of Ready Player One 
"Zombies? Check. Superheroes? Check. Awesome? Check. Ex-Heroes has it all. You're in for a treat!" —Mira Grant, New York Times bestselling author of Feed 
Originally published by a small, print-on-demand press without any publicity or marketing support and almost no physical distribution, Peter Clines's brilliant debut, Ex-Heroes, which combines the best of the sci-fi, thriller, horror, and adventure fiction genres, still managed to draw an incredible cult following. Now, Broadway is thrilled to introduce Ex-Heroes (Broadway; on sale February 26, 2013; $14.00) to a whole new slew of fans with the release of this paperback original. With three more novels to follow in the series, including Ex-Patriots (April 23, 2013) and Ex-Communication (July 9, 2013), Ex-Heroes is sure to appeal to fans of such hits as Watchmen, World War Z, and Ready Player One.  
In Ex-Heroes, it's zombies versus superheroes—a face-off we've never seen before—complete with a cast of fresh, interestingly flawed new heroes that will appeal to even the most jaded comic-book fans and horror junkies. Los Angeles has been devastated by the zombie apocalypse and is devoid of human life—except for one last stronghold, the film-studio-turned-fortress known as the Mount. 
Protecting the city's last survivors, who are huddled within the walls of the Mount, are the superheroes Stealth, Gorgon, Regenerator, Cerberus, Zzzap, and the Mighty Dragon. Terrified by the overwhelming responsibility of protecting what may be the last members of the human race and scarred by the horrors they've endured, the heroes struggle to hold back the zombie hordes, keep the Mount's inhabitants alive, and be the symbols of hope the survivors so desperately need. But the heroes are about to learn that the zombies are the least of the threats they now face. Former heroes, their psyches and powers hideously twisted, lurk in the city's ruins . . . and just a few miles away from the Mount's walls waits an enemy with the most terrifying ability imaginable.
More Joss Whedon's The Avengers than Saw, Ex-Heroes has plenty to offer zombie aficionados, but is by no means just for horror fans. Clines, who worked in the film and television industry for fifteen years, has crafted a summer blockbuster in book form, delivering remarkably cinematic action scenes, innovative new heroes and powers, masterful thriller plotting, and character relationships that will engross any reader looking for smart, genuinely page-turning adventure fiction. 
ABOUT THE AUTHOR: PETER CLINES has published several pieces of short fiction and numerous articles on the film and television industry, as well as the recent novel 14, named best sci-fi novel of 2012 by Audible.com and voted one of the best horror novels of 2012 on Goodreads. He lives in Southern California.
Related Posts: