Press Releases
EVERYTHING ALL AT ONCE
How to Think Like a Science Guy, Solve Any Problem, and Make a Better World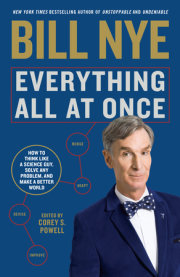 Bill Nye and Corey S. Powell
Imprint: Rodale
On sale: November 20, 2018
Price: $17.99
Pages: 384
ISBN: 9781635652154
Contact:
Kathryn Santora
212-572-2544
ksantora@penguinrandomhouse.com
In the New York Times bestseller EVERYTHING ALL AT ONCE, Bill Nye shows you how thinking like a nerd is the key to changing yourself and the world around you.
"Bill Nye, the Science Guy, single-handedly imbued an entire generation with a love of science. Herein he offers a novel recipe for how to harness that energy to save the world. I'm in. Are you?"
—Neil deGrasse Tyson, astrophysicist, American Museum of Natural History
"Bill Nye is the Science Guy, but he's more than that. He's the Mind Guy—he shows how our brains process information before they produce ideas. You know those board games that said they're for kids of all ages? This book is one of those."
—Questlove
"This is Bill Nye at his best—engaging us with his personal journey to discover science and interwoven with anecdotes of how science has shaped human history and society today. He brilliantly differentiates between those who dabble in information and scientists who think critically in their search for cause and effect. He concludes we can tap the collective brainpower of the world to solve the largest problems facing humankind. This book is a must-read for all."
—Mark Z. Jacobson, professor of civil and environmental engineering and director of Stanford's atmosphere/energy program
 For more than 20 years, educator, author, and television host Bill Nye has been the public face of science and discovery. On television screens in classrooms and households across the globe, he has taught us to be more observant and think more critically by using humor, music, and scientific visuals in his award-winning educational programs. Now available in paperback, Nye's latest book EVERYTHING ALL AT ONCE: How to Think Like a Science Guy, Solve Any Problem, and Make a Better World (Rodale Books; On Sale November 20, 2018; $17.99; ISBN: 9781635652154) continues these same important lessons. Urging us to examine every detail of the most difficult problems until a solution can be found, Nye explains how he developed this "everything all at once" approach that leaves no stone unturned.
Whether addressing climate change, discussing personal success, or stripping away the mystery of fire walking, there are certain strategies that get results: looking at the world with relentless curiosity, being driven by a desire for a better future, and being willing to take the actions needed to make change happen.
Nye shares how he came to create this approach—starting with his Boy Scout training and moving through the lessons he learned as a Boeing engineer, a stand-up comedian, and as Bill Nye the Science Guy. Among his many musings, reflections, and ideas:
On the importance of embracing your inner nerd: "We are living in a time of crisis. Managing and getting past it will require all our nerd ingenuity—not just in design and engineering, but also in addressing our emotional needs as people. . . . But if we really want a more peaceful world, we have to dig deep into the human psyche and address the feelings of insecurity. Nerds need to go after fear itself."
On the genesis of Bill Nye the Science Guy: "In any case, we needed to fill 6 or 7 minutes of show time. . . . Ross and the rest of us were somewhat desperately casting around for ideas. He was so desperate that he said to me, 'Why don't you do some of that science stuff you're always talking about. You could be, I dunno, 'Bill Nye the Science Guy' or something.' In an instant, my two separate nerd lives were smashed together."
On the role of humor in his life growing up: "I was fortunate that humor was valued in my family to the point where it seemed completely normal to spend our days trying to outdo each other at being punny. . . . During my childhood . . . I just knew I enjoyed being funny and liked the way people responded to it. . . . When I went to college, science and engineering mingled with comedy and performing in my budding, wrinkling brain."
On our changing climate and global warming: "Climate change is the great test of our ability to harness critical thinking. So far, we are pretty much flunking this course. We need to do better. We need to pull out the best of everything—data, design, and execution, which will be shaped by our sense of collective responsibility—and get to work. . . . We need to hustle because the longer we wait, the worse the problem gets."
Brimming with Nye's trademark wit and humor, EVERYTHING ALL AT ONCE is an exciting, inspiring call to unleash the inner nerd that exists within all of us. Step-by-step, each chapter of the book describes a principle of problem solving that Nye himself uses, key tools that can lead to a richer, more meaningful life. Nye believes we'll never be able to tackle our society's biggest, most complex problems if we don't even know how to solve the smallest ones. Throughout the book, Nye draws on his own experiences to show how he came to think like a Science Guy, and how readers can, too. By the end, readers will be ready to sort out problems, recognize solutions, and join Nye in changing the world.
# # #
About the Authors:
Bill Nye is a science educator, mechanical engineer, New York Times bestselling author, and host of the Emmy-nominated Bill Nye Saves the World on Netflix. In his role as the creator and host of the 18-time Emmy–award winning Bill Nye the Science Guy, Nye helped introduce the millennial generation to science and engineering in an entertaining and accessible manner, fostering an understanding and appreciation for the science that makes our world work. Today, Nye is a respected champion of scientific literacy, who has challenged opponents of evidence based education and policy on climate change, evolution, and critical thinking. He currently serves as CEO of The Planetary Society, the world's largest and most influential non-governmental space organization, cofounded by Carl Sagan. He has authored three New York Times bestselling books —Undeniable: Evolution and the Science of Creation (2015), Unstoppable: Harnessing Science to Change the World (2016), and Everything All at Once: How to Unleash Your Inner Nerd, Tap into Radical Curiosity and Solve Any Problem (2017)—and also coauthored the middle-grade reader series Jack and the Geniuses. Nye is the subject of the critically acclaimed documentary Bill Nye: Science Guy, which premiered at SXSW 2017 and aired on PBS in Spring 2018.
Corey S. Powell is the science editor of Aeon and former editor-in chief of American Scientist and Discover. He is a visiting scholar at NYU's SHERP program and a writer for Popular Science and Scientific American.
EVERYTHING ALL AT ONCE
How to Think Like a Science Guy, Solve Any Problem, and Make a Better World
By Bill Nye and Corey S. Powell
Rodale Books | On Sale November 20, 2018
$17.99 | ISBN: 978-1-63565-215-4
Related Posts:
You Might Also Like