Press Releases
The Essential Vegetarian Keto Cookbook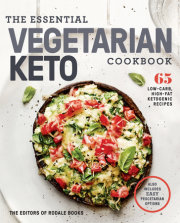 Editors of Rodale
Imprint: Rodale Books
On sale: November 27, 2018
Price: $14.99
Pages: 144
ISBN: 9781984825865
Contact:
Molly Breitbart
212-782-9164
mbreitbart@prh.com
Introducing 65 delicious, easy-to-prepare ketogenic recipes for vegetarians, who can now enjoy the benefits of the diet that is taking the world by storm.
Who says vegetarians can't go keto? The most-talked-about diet in the world is now reaching a whole new audience with The Essential Vegetarian Keto Cookbook (November 27, 2018; $14.99; Trade Paperback).  Featuring 65 low-carbohydrate, high-fat, and moderate-protein vegetarian and pescetarian recipes, readers who assumed ketogenic eating was off-limits for their lifestyle can now prepare easy, delicious, and keto-compliant meals.
"Keto-cooking" doesn't have to imply "meat-heavy." This book includes meat-free, protein-packed dishes like coconut-almond chia pudding, pumpkin pie pancakes, roasted cauliflower-turmeric soup, and filling salads to satisfy your every craving. Maintaining a high-fat, low-carb diet has never been easier or more delicious.
* THE DIET THAT CHANGES LIVES: Ketogenic eating has taken the health and cooking worlds by storm for a reason—it delivers results. With benefits including quick weight loss, increased energy, clear skin, joint and muscle pain relief, better sleep, and improved cardiovascular and brain health, it's no wonder that everyone wants to try going keto!
* IN FULL-COLOR: We eat with our eyes—now feast yours on forty never-before-seen full-color photographs.
* HOW TO BE SAFELY KETO COMPLIANT: Most ketogenic diets rely heavily on meat protein. In this collection, vegetarians will discover the healthiest ways to adhere to a ketogenic lifestyle using plant-based foods that still enable them to meet the same macronutrient goals as carnivores.
This comprehensive guide demonstrates how keto-friendly ingredients like cruciferous vegetables, avocados, and even dark chocolate can become your new dietary staples and combine forces to become your new favorite meals. This cookbook includes everything vegetarians need to know to prepare ketogenic recipes, without any of the overwhelming extras.
###
ABOUT THE EDITORS OF RODALE BOOKS
The Editors of Rodale Books have been publishing award-winning, best-selling books for over 75 years, helping millions of readers lose weight, get fit, and eat and live healthier lives.
Related Posts: