Press Releases
Enchanting debut novel from Amber Brock – A FINE IMITATION
On sale May 3rd, 2016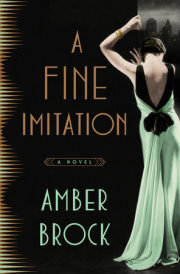 Amber Brock
Imprint: Crown
On sale: May 3, 2016
Price: $26.00
Pages: 304
ISBN: 9781101905111
Contact:
Hannah Frail
212-572-2247
hfrail@penguinrandomhouse.com
Advance Praise for A FINE IMITATION:
"There's never a dull moment in this debut novel centered on an intriguing and tightly woven story line. Vera's struggles are highly relatable, and the anguish she feels will resonate with countless readers. This surefire hit is certain to be beloved by fans of Beatriz Williams's Along the Infinite Sea and Anton DiSclafani's The After Party." —Library Journal, starred review
"In her debut novel, Brock delivers an absorbing tale of art, deception, romance, and forbidden desire." —Publishers Weekly
"Told from the inside of the gilded cage, A Fine Imitation explores one Manhattan socialite's growing realization that who she's been brought up to be is increasingly at odds with who she is. Although set in a rarified corner of the early twentieth century, this lush, incisive debut novel explores the universal choice between doing what is right versus what is expected."
—Miranda Beverly-Whittemore, New York Times bestselling author of Bittersweet
"In A Fine Imitation, Amber Brock gives us a portrait of a woman and her times that shines with authenticity and charm. Women especially must read it—here we are, ladies, each and every one of us."
—Anne Rivers Siddons, New York Times bestselling author of Low Country
"Rich in color and drama, A Fine Imitation is a sharp and absorbing period piece that skillfully portrays the tensions of social class and love. Fans of Amor Towles and Laura Moriarty will adore Amber Brock—a spellbinding new voice in historical fiction."
—Erika Robuck, national bestselling author of Hemingway's Girl
In her captivating debut novel, A FINE IMITATION (Crown; May 3, 2016), Amber Brock beautifully weaves together past and present as she explores the friendships, illicit romances, and social rules that dictate and define lives. Deemed a "not to miss" debut by Library Journal, A FINE IMITATION is a feminine, heartfelt, and intensely passionate story from a rising talent.
The year is 1923 and from her penthouse in Park Avenue's most prominent building, Vera Bellington sits atop New York's elite society. But for the romantically inclined Vera, the nights of charity balls and endless cocktail parties have lost their allure as she reflects upon her loveless marriage and empty apartment, brightened only by her beloved paintings. When the mysterious artist Emil Hallan arrives from Europe to paint a mural above the building's subterranean pool, Vera is unable to resist the stranger's charms. Despite the many secrets he seems to be hiding, she finds herself drawn to the possibility of a life with him, calling to mind her years at Vassar College when a vibrant friendship almost led to her downfall. As Vera is pulled deeper into a scandalous affair, she is forced to once again consider the true cost of privilege.
Connecting these narratives is Vera's profound love of art, enriching the story with radiant imagery and providing Vera with an emotional tether that gives her hope even in her most desperate state. As the rules and restrictions of Vera's life continue to close in around her, she is forced to look within herself in order to find the strength to take control over her own future.
The enchanting prose of A FINE IMITATION presents a fascinating snapshot of New York's high society during one of the most glamorous periods in American history, introducing an artful and charismatic voice to the world of fiction.
ABOUT THE AUTHOR
AMBER BROCK received an M.A. from the University of Georgia, where she concentrated on modern Spanish film. She currently teaches British literature in Atlanta, Georgia, and lives with her husband, also an English teacher, and their three rescue dogs.
Related Posts:
You Might Also Like