Press Releases
Empire of Sin: A Story of Sex, Jazz, Murder, and the Battle for Modern New Orleans by Gary Krist
"In the vein of Erik Larson's bestseller The Devil in the White City, Gary Krist's exposé of New Orleans at the turn of the century . . . proves that truth really is stranger than fiction." —Library Journal, "Top 10 Editors' Picks BEA 2014"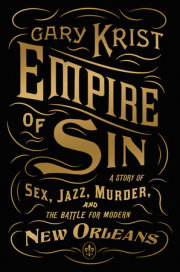 Gary Krist
Imprint: Crown Publishers
On sale: October 28, 2014
Price: $26.00
Pages: 432
ISBN: 9780770437060
Contact:
Dyana Messina
(212) 572-2098
dmessina@penguinrandomhouse.com
Advance Praise for EMPIRE OF SIN
"[A] rich, well-structured story more vivid and twist-filled than most crime fiction . . . Armed with both well-placed primary sources and an addictive, climactic narrative, Krist leads a perfect trip into the short-lived societal experiment aptly named 'Storyville.'" —Publishers Weekly (boxed, starred review)
"This engaging work covers the brief and exciting history of Storyville…Krist delivers on his lurid subtitle with stories of the flourishing sex industry, the birth of jazz in New Orleans, and unsolved case of the "Axman"…Highly recommended for readers interested in New Orelans and also for those looking for a readable collection of true stories from one of America's most fascinating metropolises." —Library Journal (starred review)
"Empire of Sin: A Story of Sex, Jazz, Murder, and the Battle for Modern New Orleans has something for everyone who has ever staggered down Bourbon Street with a Kindle. Krist spent a lot of time in the city's great archival collections, wondering why our funky hometown got this way. And, boy did he latch onto a story." —New Orleans Times-Picayune
"Focusing on the battle for (and against) morality in "the Sodom of the South" from the 1890s to the early 20th century, Krist's hard-to-put-down read recounts a volatile time for vice in a town built on it." —Where New Orleans
"Krist deftly weaves Anderson's rise and fall into a much broader tale involving race relations, prostitution, jazz, and the underworld of Italian immigrants. . . . What keeps it going are well-crafted vignettes and deftly rendered character profiles, in which reformers aren't necessarily holy, and their targets are often possessed of considerable charm." —American Scholar
"[An] in-depth, seasoned analysis of the creation, growth, and downfalls of New Orleans, particularly its colorful Storyville area, which was indeed the site of vice and murder of all sorts but also of the birth of entrepreneurships and a music unparalleled in the U.S. of the time . . . Krist's well-researched and told history of New Orleans is an eye-opening tale of a melting pot. . .There are characters here, genial, business-savvy, and cruel; concerted efforts to live and let live, along with lawlessness; and righteous reformers, all wrapped into a captivating history of an era and locale that ultimately touched much of America's arts, attitudes, and outlook. A fascinating, detail-filled tribute to a city and an era." —Booklist
"A colorful account . . . richly detailed . . . lively . . . A wild, well-told tale." —Kirkus Reviews
A Publishers Weekly "Top Ten History" Selection for Fall 2014!
New Orleans hasn't earned the moniker "America's Most Interesting City" without reason. The metropolis built on the banks of the Mississippi River has a long and storied past, a history of reinvention that has established it as one of the most diverse, lively, and infamous cities in the world. Its evolution, however, has never been smooth, and in EMPIRE OF SIN: A Story of Sex, Jazz, Murder, and the Battle for Modern New Orleans (Crown; October 28, 2014), bestselling and award-winning author Gary Krist brings readers into New Orleans during one of its most dramatic transitions—a bitter, thirty-year period in which NOLA's own citizens threatened to tear the city apart.
For years, the "proper" residents of New Orleans had turned a blind eye to the city's less desirable elements—violence, prostitution, drinking, rampant crime—but by the late 1890s, New Orleans' elite had had enough. Determined to rescue their city from its moral decay and usher in a new age of modernization, leaders and officials set off on a crusade to loosen the grip of crime and indecency. In a bold urban experiment, they created a government-sanctioned red-light district, which came to be known as Storyville. Here, prostitution (and the other evils that accompany it) would be restricted to an eighteen-block area of the city, properly monitored and kept in check—or at least that was the intention. Instead, Storyville would rise to become a bacchanalian empire ostensibly ruled by its wealthy and politically connected "Mayor," Tom Anderson. Through his capital and influence, the vice district would grow into a city unto itself, a place where cosmopolitan madams, such as the infamous Josie Arlington and Lulu White, catered to all types of appetites in elaborate brothels that exuded luxury and style. Restaurants, bars, and dance halls populated the streets, beckoning customers to come in and listen to the new musical style known as jazz, as men like Jelly Roll Morton and young Louis Armstrong kept them dancing through the night. Though designed to be the dark corner in which the city could hide its dirty secrets, Storyville instead became a glittering beacon of debauchery, attracting both local regulars and international visitors.
Even outside Storyville, violence erupted daily in the streets of New Orleans. Race relations were quickly deteriorating in a post–Civil War South, and in the city's Italian population, the "black hand" influence resulted in a torrent of murders and revenge killings. A corrupt police force could and would do little to stem the surge of bloodshed, not that many cared—that is until a series of extremely violent serial murders would shake NOLA, leaving even its most elite citizens in fear of "the Axman." Gary Krist takes us inside three decades of the city's civil war as its "better half" worked to eradicate its supposed wickedness, fighting against a deeply invested underworld eager to see its way of life prevail.
EMPIRE OF SIN vividly brings to life this legendary city struggling to reinvent itself in the twentieth century. Krist once again presents his readers with meticulous research, mesmerizing characters, and complex historical accounts, all crafted into a propulsive and vivid tale that reads like the best of novels.
About the Author
GARY KRIST has written for the New York Times, Esquire, Salon, the Washington Post Book World, and elsewhere. He is the author of the bestselling City of Scoundrels and the acclaimed The White Cascade, as well as several works of fiction. He has been the recipient of the Stephen Crane Award, the Sue Kaufman Prize from the American Academy of Arts and Letters, a Lowell Thomas Gold Medal for Travel Journalism, and a fellowship from the National Endowment for the Arts.
Related Posts:
You Might Also Like