Press Releases
ELECTION 2012: A Time for Choosing – The RealClearPolitics Political Download
In-depth analysis on how Romney sealed the nomination and what the Obama campaign is testing to run against him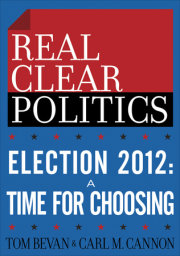 Tom Bevan
Imprint: Crown
On sale: June 4, 2012
Price: $2.99
Pages: 116
ISBN: 9780307986634
Contact:
Campbell Wharton
212-572-2296
cwharton@randomhouse.com
RealClearPolitics' gripping second eBook on the 2012 election provides fascinating insights behind the pivotal moments in the campaign and the rise and fall of each of the candidates. ELECTION 2012: A Time for Choosing (Crown Publishers, June 4), written by Washington editor, Carl M. Cannon, and executive editor, Tom Bevan, is a front row seat through the brutal nominating contest that lead Romney to becoming the GOP candidate for president, and how his team, and his opponent, are preparing for the onslaught this fall.
With in depth interviews of Republican candidates and their campaign staffs, A Time for Choosing includes stories on:
–  What Romney told aide Eric Fehnstrom after his "Etch a Sketch" gaffe.
–  The attributes Romney and his team will be looking for when choosing a vice presidential nominee.
–  The "kitchen sink" approach Obama's message team is adopting for attacking Romney.
–  Who among the potential his fellow Republicans candidates Romney's advisers did not want him to run against.
–  Why famed debate coach Brett O'Donnell was cut loose by the Romney campaign after helping Romney prepare for the knock-out Florida debate.
–  Who enticed Romney to run for Governor of Massachusetts in 2002 by suggesting he might someday be President of the United States.
–  New details on the efforts by evangelical leaders to throw their support behind a single Republican candidate.
–  How Gingrich, a great counterpuncher in debates, ultimately was done in by an inability to defend himself.
–  The unlikely success of Rick Santorum — an inside look at how Santorum pulled off upsets in Iowa and Colorado; additionally, a behind the scenes look at the final days of his campaign, and the deliberations that led him to get out of the race.
–  Find out what Rick Perry says he learned from his experience running for President.
–  Wild debate stories including what Gingrich said to Juan Williams and John King the night of his fiery exchanges with the two debate moderators in South Carolina.
All of these key moments and issues, as well as a careful survey of the terrain ahead for the general election (the challenges and strategies for both candidates and the latest insights into Romney's possible vice presidential nominee), makes A Time for Choosing a must-read for understanding the 2012 campaign.
###
 ABOUT THE AUTHORS
Carl M. Cannon is the Washington editor for RealClearPolitics. Cannon has covered every presidential campaign and convention since1984 and has interviewed every US president since Gerald Ford. He covered the White House for fifteen years, during both the Clinton and Bush administrations, winning the two most prestigious journalism awards for presidential coverage.
Tom Bevan is the co-founder and executive editor of RealClearPolitics. Under Bevan's editorial leadership, RealClearPolitics has grown into one of the most widely read political websites, with an average of 5 million readers every month.
Related Posts:
You Might Also Like