Press Releases
From the Editors of Apartment Therapy's beloved cooking site, The Kitchn, comes two beautifully photographed books in one: a cookbook with 150 recipes and 50 essential techniques, as well as an indispensable guide to organizing and maintaining your kitchen
The Kitchn Cookbook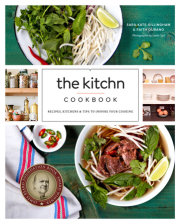 Sara Kate Gillingham and Faith Durand
Imprint: Clarkson Potter
On sale: October 7, 2014
Price: $32.50
Pages: 304
ISBN: 9780770434434
Contact:
Anna Mintz
212-572-6186
amintz@penguinrandomhouse.com
Since 2005, avid readers of Apartment Therapy's cooking site, The Kitchn, have come in search of delicious recipes, helpful how-tos, advice on meal prep, inspiration on what tools to buy, and ideas for how to throw memorable gatherings. At long last, The Kitchn presents its first cookbook, The Kitchn Cookbook: Recipes, Kitchens & Tips to Inspire Your Cooking (Clarkson Potter/Publishers; October 7, 2014; $32.50; hardcover), the only book you'll need to cook delicious food in a kitchen you love.
Packed with dozens of brand-new and classic recipes you'll want to make again and again, The Kitchn Cookbook alsoincludes a cooking school with 50 essential techniques to build your skills. And because The Kitchn knows you'll be more inspired to cook if you love your space, founding editor Sara Kate Gillingham and executive editor Faith Durand show you how to set up, organize, and stock your kitchen so it meets your needs and makes you happy to be there.
Sample recipes in the book include:
BREAKFAST: Kale and Gruyère Breakfast Strata with Smoky Tomato Sauce, Quick Drop Biscuits with Quick Berry Jam, Mini Quiches in Prosciutto Cups, Spiced Apple Cranberry Muffins
SMALL BITES: Minty Summer Rolls with Spicy Peanut Sauce, Sriracha-Honey Popcorn Clusters, Baked Brie with Blackberries and Sage, Bacon-Wrapped Potato Bites with Spicy Sour Cream Dipping Sauce
DRINKS: Pure Mexican Margarita, Spiked Strawberry  Limeade, Coconut Bourbon Nog, Boozy Cherries garnish
MAIN DISHES & ONE-BOWL MEALS: Foolproof Salmon Baked with Olive Oil and Herbs, White Spinach Lasagna with Sausage, Green Papaya Pad Thai, Slow Cooker Carnitas
SIDES & SALADS: Greenest Green Goddess Salad; Wheat Berry Salad with Blood Oranges, Feta, and Red Onion Viniagrette; Bacon-Cheddar Twice-Baked Potatoes
DESSERTS: Cut-Out Sugar Cookies with Tangy Buttercream Icing, No-Bake Banana and Peanut Butter Caramel Icebox Cake, Meyer Lemon Bars, Cinnamon Toast Bread Pudding Cupcakes
More than just recipes, The Kitchn Cookbook is a complete handbook for the whole kitchen, including:
A shopping list of essentials for your cabinets and drawers (knives, appliances, cookware, and tableware), with insider advice on what's worth your money
Solutions for common kitchen problems such as limited storage space and quirky layouts
A handy 5-minute-a-day plan for a clean kitchen
Tips for no-pressure gatherings
A look inside the kitchens of ten home cooks around the country, and how the cooks enjoy their spaces
Whether you're just starting out in the kitchen or looking for creative and easy ways to feed yourself or your family, The Kitchn Cookbook gives you the recipes, tools, and real-life inspiration to make cooking its own irresistible reward.

                                                #  #  #
ABOUT THE AUTHORS:
SARA KATE GILLINGHAM is a food writer based in New York City. She is the founding editor of Apartment Therapy's The Kitchn, an award-winning cooking website and online community, which began nine years ago. She is also the author of Good Food to Share and The Greyston Bakery Cookbook.
FAITH DURAND is the executive editor of The Kitchn and the author of Bakeless Sweets and Not Your Mother's Casseroles. An avid home cook, gardener, and lover of dinner parties, she lives in Columbus, Ohio, with her husband.
Related Posts:
You Might Also Like