Press Releases
ON EDGE by Andrea Petersen
A Journey Through Anxiety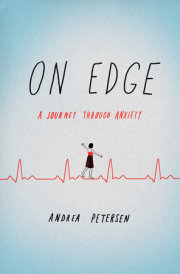 Andrea Petersen
Imprint: Crown
On sale: May 16, 2017
Price: $27.00
Pages: 320
ISBN: 9780553418576
Contact:
Sarah Breivogel
212-572-2722
sbreivogel@penguinrandomhouse.com
From a highly regarded health writer for the Wall Street Journal comes a deeply reported, bracingly honest account of living with anxiety, plus a look at new treatments on the horizon
Praise for ON EDGE

"In her book On Edge: A Journey Through Anxiety…Petersen writes in vivid, memorable detail about what it's like to experience acute anxiety…Books like Petersen's offer insight and hope."
—NPR.org
"Deft and affecting, heart-breaking and fascinating, On Edge completely captures what it feels like to live with anxiety."
—Bustle.com
"Petersen, a veteran Wall Street Journal writer covering health and psychology, deftly intercuts her own narrative with wide-angle reporting, tracing a checkered history of treatments ("pelvic massage" helped pave the way for early vibrators) as well as leading-edge research on genetics and neurofeedback."
—Vogue.com
"Petersen's story combines her own experience with a history of research into anxiety disorders, as well as the latest work treatments being developed. This balance makes for a compelling read; it's personally relatable to those who have had similar experiences, highly informative on an emotional and factual level to those who have not. (And, for a book about such a serious subject, it has plenty of light moments.)"
—Jezebel.com
"The book makes those experiencing anxiety for the first time (or for a long time) feel as if they are not alone."
—LiveHappy.com
"Petersen's thoughtful and encouraging treatise on living and thriving despite these disorders will be helpful reading for many, and her honesty opens a much-needed doorway onto a significant health problem that is often underreported but on the rise. [On Edge offers] sensitive and frank personal views on anxiety backed by substantial research and analysis of the evolution of treatment methods and drugs to alleviate symptoms."
—Kirkus Reviews
"By chronicling her own experiences with a variety of therapeutic interventions and coping mechanisms, she sheds light on the circuitous route those with anxiety disorder travel. With reported incidences of the disorder on the rise, particularly among millennials, Petersen's account is enlightening and informative."
—Booklist
"an honest memoir of [Petersen's] 15-plus years of struggle with an anxiety disorder…required reading for anyone working with those who have the disorder."
—Library Journal
"For those with a family member, friend or employee who is battling with this invisible demon, On Edge can shed light down the dark cavern and help them support their loved ones when 'uncertainty far too easily morphs into inescapable catastrophe.'"
—Shelf Awareness
"In On Edge, Andrea Petersen paints a vivid picture of how anxiety has affected her work, romantic relationships, and experience as a parent. We see not only the ways in which her anxiety has held her back, but also how it has led her to live a richer, more authentic life. This brave, hopeful, sensitive account, grounded in the latest neuroscience, will be both enlightening and comforting to the millions who struggle with anxiety."
—SUSAN CAIN, author of Quiet: The Power of Introverts in a World That Can't Stop Talking
"With a clever mix of science and story, Petersen reveals her search for the roots of her life-long struggle with anxiety. On Edge is both moving and informative, and recommended for those who suffer for similar reasons, as well as those who are simply curious about the workings of the mind."
—JOSEPH LEDOUX, university professor and professor of neural science, New York University, and author of Anxious
"This remarkable and beautifully written description of Andrea Petersen's life-long journey with anxiety combines an account of personal experience with a description of up-to-the-minute research describing what we know about anxiety and its treatment. Everyone dealing with anxiety—the common cold of mental disorders—will benefit from the important information in this entertaining and erudite reflection on coping with the burden of anxiety."
—DAVID H. BARLOW, professor of psychology and psychiatry emeritus, Boston University, and  founder and director emeritus, Center for Anxiety and Related Disorders 
"On Edge is a beautiful, often heartbreaking, often funny, always moving account of what it means to experience a degree of anxiety most of us cannot imagine. Andrea Petersen has crafted an engaging blend of memoir and science that will open your eyes—and heart—to a condition that is usually invisible, but deserves a broader spotlight. Truly a must-read for anyone who wants to understand mental illness and the effect it can have on our lives."
—MARIA KONNIKOVA, author of Mastermind and The Confidence Game
"On Edge is a remarkable achievement—poignant, funny, illuminating, and unflinchingly honest. Petersen combines the intimacy of a memoir with the groundbreaking science that is unraveling the mystery of anxiety: a fundamentally human experience, capable of making our lives miserable but essential for our very survival. A compelling and unforgettable read."
—JORDAN SMOLLER, professor of psychiatry, Harvard Medical School, and author of The Other Side of Normal
"In this fascinating book, science reporter Andrea Petersen deftly combines an honest, wry account of her own challenges with anxiety with a thorough examination of contemporary research. On Edge will illuminate the subject for anyone who has wrestled with anxiety."
—GRETCHEN RUBIN, author of The Happiness Project and Better Than Before
"This story of resilience in the face of enormous challenge powerfully illustrates Andrea Petersen's pathway to recovery from mental illness. Eminently readable and at times controversial, Andrea's story is a beacon in the darkness for those living with anxiety disorders in silence. Stories like hers, shared openly, can change lives by reducing the stigma and discrimination that still surrounds mental illness." —FORMER FIRST LADY ROSALYNN CARTER, cofounder, The Carter Center
"Andrea Petersen raises the bar for anyone attempting to explain the complex science of the anxious brain. I was fascinated by the candid, painful, often humorous account of her own struggle and her quest for the best information about anxiety."
—KAREN CASSIDAY, president, Anxiety and Depression Association of America
An estimated 40 million American adults suffer from some type of anxiety disorder in any given year. Women are especially vulnerable; about 40 percent of them will have an anxiety disorder at some point in their lives. And rates are increasing for young people—17 percent of college students were diagnosed with or treated for anxiety during the past year, up from 10 percent in 2008. Among those whose lives have been turned upside down by anxiety is Andrea Petersen, a highly regarded writer for the Wall Street Journal. In ON EDGE: A Journey Through Anxiety (Crown; on-sale May 16, 2017), Petersen harnesses her personal experience and expertise as a health reporter to explore the biological mechanisms of anxiety and the groundbreaking research that might point the way to new treatments.
During her sophomore year of college, Petersen experienced her first panic attack. After that, nothing was the same. She had spells of breathlessness, a racing heart, and uncontrollable fear that seemingly came out of nowhere. She worried that any twinge of pain was a sign that she was seriously ill or had an undiagnosed disease. She was afraid of driving on highways, touching dirt, using a new tube of toothpaste, and even licking envelopes. Fear, she said, ambushed her. Forced to withdraw from school, she spent half her time on the sofa, the other half getting EKGs, blood tests, CAT scans, MRIs, EEGs, and a variety of other tests. Doctors suspected MS, a brain tumor, Epstein-Barr virus, even chronic fatigue syndrome. It took over a dozen doctors and almost a year before she was finally diagnosed with an anxiety disorder and treated. Although having a name for her symptoms and fears was an enormous relief, identifying the problem was only the beginning of Petersen's journey toward understanding it.
In ON EDGE Petersen offers readers a crash course in what happens in the brain of someone with anxiety. She excavates the role of genetics and the environment in mental illness by visiting with top neuroscientists and by tracing her family history—from her grandmother, who plagued by paranoia once tried to burn down her own house, to her young daughter, who Petersen worries might have inherited a genetic propensity toward anxiety. She candidly writes about how anxiety has colored her relationships—with her family, friends, coworkers, and boyfriends—from the ones who were supportive to the ones who were overwhelmed and made a beeline for the exit. She writes about the history of how anxiety has been treated, and how anxiety has both bolstered and limited her own career. Along the way, she illuminates the differences between anxiety in men and women; looks at promising new research and treatments, many of which she's tried herself; and introduces us to the people whose support has allowed her to make her life her own.
ON EDGE is an important and timely book that shines a light on a condition that is too often invisible, or stigmatized. Brave and empowering, this is essential reading for anyone who knows what it means to live on edge.
# # # # #
About the Author:
ANDREA PETERSEN is a contributing writer at the Wall Street Journal, where she reports on psychology, health, and neuroscience. She is the recipient of a Rosalynn Carter Fellowship for Mental Health Journalism and lives in Brooklyn, New York, with her husband and daughter.
Related Posts:
You Might Also Like