Press Releases
Eating from the Ground Up by Alana Chernila
Recipes for Simple, Perfect Vegetables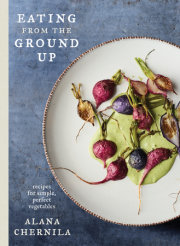 Alana Chernila
Imprint: Clarkson Potter
On sale: February 2 2018
Price: $28.00
Pages: 272
ISBN: 9780451494993
"What is the best way to eat a radish?" Cookbook author Alana Chernila hears this sort of question all the time. Arugula, celeriac, kohlrabi, fennel, asparagus—whatever the vegetable may be, people always ask how to prepare it so that the produce really shines. Although there are countless ways to eat our vegetables, there are a few perfect ways to make each vegetable sing. With more than 100 versatile recipes, Eating from the Ground Up: Recipes for Simple, Perfect Vegetables (Clarkson Potter | $28.00 | on sale February 27, 2018) teaches you how to showcase the unique flavor and texture of each vegetable, truly bringing out the best in every root and leaf.
Here are dishes so simple and quick that they feel more intuitive than following a typical recipe. There are soups for year-round that are packed with nourishment; ideas for maximizing summer produce; hearty fall and winter foods that are all about comfort; impressive dishes fit for a party; and tips like knowing there's not one vegetable that doesn't perk up with a sprinkle of salt.  Highlight recipes include:
BARELY RECIPES: Butter-Braised Cabbage; Caramelized Corn with Mint; Creamy Spinach with Dill; Smoky Delicata Chips
A POT OF SOUP: Roasted Tomato and Vegetable Soup; Winter Borscht; Butternut Red Lentil Dahl; Cauliflower Cheddar Soup
TOO HOT TO COOK: Radicchio and Chickpeas with Creamy Lemon Dressing; Cucumber Shiso Soba; Zucchini and Garlic Scape Pasta; Napa Coleslaw with Pecans and Peas
WARMTH AND COMFORT: Garlicky Kohlrabi with Dandelion and Chickpeas; Polenta with All the Greens; Sausage and Swiss Chard Strata; Indian Spiced Shepherd's Pie
CELEBRATIONS AND OTHER EXCUSES TO EAT WITH YOUR HANDS: Cauliflower Hot Wings with Blue Cheese Dressing' Sweet Potato Latkes with Roasted Applesauce; Butternut Squash Custard with Bourbon Pecans; Caramelized Onion Dip
No matter the vegetable, the central lesson is: don't mess with a good thing! The answers lie in smart techniques and a light touch, all presented with the trusted, inspiring, down-to-earth encouragement that has drawn home cooks back to Chernila's bestselling books again and again.
About the Author
ALANA CHERNILA is the author of The Homemade Pantry and IACP-nominated The Homemade Kitchen. She writes, cooks, teaches cheese making, and blogs at EatingFromTheGroundUp.com. She lives with her husband and daughters in western Massachusetts.
Related Posts: