Press Releases
Eat a Little Better by Sam Kass
Great Flavor, Good Health, Better World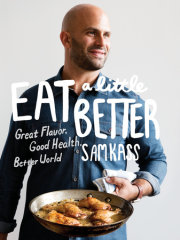 Sam Krass
Imprint: Clarkson Potter
On sale: April 17 2018
Price: $32.50
Pages: 288
ISBN: 9780451494948
Contact:
Erica Gelbard
EGelbard@penguinrandomhouse.com
Making food that is both healthful and delicious—and easy on the planet—is way easier than you might think. It's about relinquishing the stress of making the "right" choices and just focusing on making better ones. It's being conscious of—but not obsessed with—how we eat. It's knowing that converting to veganism is fine, but realistically, big change is possible if we all discover how good a bowl of beans with a little smoked pork can be.
As a chef, and then as a senior food policy advisor to President Obama and First Lady Michelle Obama, Sam Kass became an expert on the ins and outs of deliciousness, nutrition, and sustainability. EAT A LITTLE BETTER: Good Flavor, Good Health, Better World (Clarkson Potter | April 17, 2018 | $32.50 | Hardcover) has more than ninety recipes for simple yet stunning food and thoughtful tips on how to hack your kitchen, home, and life. Sample recipes include:
ROAST THOSE VEGETABLES: Charred Cabbage with Spicy Aioli , Roasted Green Beans with Shallots and Parsley , Balsamic Roasted Eggplant with Basil
GRILL THOSE VEGETABLES: Charred Broccoli with Lime, Fish Sauce, Basil, and Peanuts; Grilled Swiss Chard with Fennel and Sausage; Grilled Asparagus with Buttered Leeks
EAT THOSE VEGETABLES RAW: Red Slaw with Warm Bacon Dressing , Brussels Sprouts Caesar Salad , Arugula-Apple Salad
ORANGE IS THE NEW WHITE: Whipped Sweet Potatoes, Three Ways; Ginger and Scallion Sautéed Sweet Potatoes; Bacon Vinaigrette Sweet Potato Mash-Up
EAT MORE FISH: Shallow-Fried Catfish with Collards, Poblano Salsa, and Red Beans and Rice; Steamed Mussels with Garlic, White Wine, and Tomato; Cioppino
EAT MORE CHICKEN: Roasting Chicken , Braised Chicken with Orange and Olives , Grilled Chicken Thighs with Pomegranate and Thyme
A LITTLE PORK IS ALL GOOD: Beer-Braised Pork Shoulder with Caraway and Garlic , Rigatoni with Pork Ragu , Braised Pork Cheeks with Sauerkraut and Pear
JUST A LITTLE BEEF—BUT MAKE IT GOOD: Grilled Rib Eye with Four Sauces , Chimichurri , Cherry Steak Sauce
EAT MORE GRAINS AND BEANS: Four Ways with Fried Rice , Four Ways with Quinoa , Four Ways with Farro
In EAT A LITTLE BETTER Sam explains how the food system really works, and how easy, small, tasty choices add up to enormous change.
ABOUT THE AUTHOR:
SAM KASS was senior advisor for nutrition policy in the Obama administration. An MIT Media Lab Fellow, he is now an advisor to and investor in food technology start-ups focused on health and sustainability and was named a Young Global Leader by the World Economic Forum in 2017. One of Michelle Obama's longest-serving advisors, Kass was the executive director of the First Lady's Let's Move initiative, and helped her create the first major vegetable garden at the White House since Eleanor Roosevelt's Victory Garden. A graduate of the University of Chicago, he was trained as a chef by one of Austria's most notable chefs, Christian Domschitz, in Vienna.
# # #
EAT A LITTLE BETTER
Great Flavor, Good Health, Better World
By Sam Kass
Clarkson Potter/Publishers
On sale April 17, 2018
$32.50 hardcover | ISBN 978-0-451-49494-8
Related Posts: