Press Releases
Double Cross by Ben Macintyre
Ben Macintyre, author of the celebrated bestsellers Agent Zigzag and Operation Mincemeat, concludes his World War II trilogy on spy craft and espionage with Double Cross, the untold story of the grand final deception of the war and of the extraordinary spies who achieved it.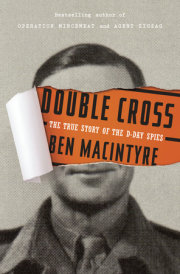 On sale: January 1, 1970
Price: $
ISBN: 9780307888754
Contact:
Sarah Breivogel
212-572-2722
sbreivogel@randomhouse.com
Praise for Double Cross
"With the same skill and suspense he displayed in Operation Mincemeat and Agent Zigzag . . . Macintyre effortlessly weaves the agents' deliciously eccentric personalities with larger wartime events to shape a tale that reads like a top-notch spy thriller." —Publishers Weekly (starred)

"Macintyre has written a tense, exciting real-life spy story that illuminates a largely obscure aspect of WWII." —Booklist
"With his latest book, Double Cross, Ben Macintyre tells the astonishing true story of a bizarre group of misfit spies who played a critical role in the success of D-Day. The stories in this book, many of which have never before been told, are nothing short of incredible. Skillfully woven together, they form one of the most gripping narratives I have ever read." —Candice Millard, author ofThe River of Doubt and Destiny of the Republic
"Ben Macintyre and I work in the same period, and I should be reading him because he is such a scrupulous and insightful writer—a master historian. But with Double Cross and his other excellent works, I always wind up reading him for pleasure. Double Crossmay be his best yet, falling somewhere between top-class entertainment and pure addiction." —Alan Furst, author of Mission to Paris
"Ben Macintyre's spellbinding account features an improbable cast of characters who pulled off a counter-intelligence feat that was breathtaking in its audacity. Their deceptions within deceptions—known as the Double Cross—were critical to the success of the D-Day invasion, and continued to mislead the Germans long after Allied troops landed on the beaches of Normandy. A truly bravura performance, as is Macintyre's fast-paced tale." —Andrew Nagorski, author of Hitlerland: American Eyewitnesses to the Nazi Rise to Power

"How on earth, in 1944, did we dupe Berlin that we would attack the coast of France in completely the wrong place? It was a deception that saved tens of thousands of Allied lives. In Double Cross, Ben Macintyre ingeniously explains exactly how it was done." —Frederick Forsyth

"Never-before-revealed facts about the workings of the Intelligence Service in the buildup to D-Day in the Second World War. Ben Macintyre's remarkable book is a gripping revelation." —Jack Higgins

"[Macintyre] has excelled himself with a cast of extraordinary characters and in his storytelling abilities. . . . Double Cross is an utterly gripping story." —Antony Beevor, The Telegraph
"Enthralling . . . Macintyre is a master at leading the reader down some very tortuous paths while ensuring they never lose their bearings. He's terrific, too, at animating his characters with the most succinct of touches . . . gripping." —London Evening Standard
On June 6, 1944, 150,000 Allied troops landed on the beaches of Normandy, driving back the Germans and establishing the first foothold in Nazi-occupied France. D-Day was a stunning military achievement, but it was also a masterpiece of trickery. Operation Fortitude deceived the Nazis into believing that the Allied attacks would come at Calais and Norway and not Normandy. It was the most sophisticated and successful deception operation ever carried out, ensuring that Hitler kept an entire army in Calais awaiting a fake invasion, saving thousands of lives and securing an Allied victory at the most pivotal moment in the war.
The story of D-Day has been told from the point of view of the soldiers who fought in it, the tacticians who planned it, and the generals who led it, but never before from the key individuals in the Double Cross system, who specialized in turning German spies into double agents. In DOUBLE CROSS: The True Story of the D-Day Spies (Crown; July 31, 2012), Ben Macintyre reveals the peculiar group of misfits without whom the D-Day invasion might have ended in disaster. This colorful cast of characters includes the brilliant and urbane intelligence officer who ran the double agents, a remarkable assortment of spymasters on both sides, and, most important, the spies who formed the nucleus of Double Cross: a wildly imaginative Spaniard with a diploma in chicken farming (Juan Pujol García, code name: Garbo), a dodgy Serbian playboy (Dusko Popov, code name: Tricycle), a tiny Polish fighter pilot (Roman Czerniawski, code name: Brutus), the hard-partying bisexual daughter of a Peruvian diplomat (Elvira de la Fuente Chaudoir, code name: Bronx), and a volatile twenty-nine-year-old Frenchwoman (Lily Sergeyev, code name: Treasure), whose obsessive love for her pet dog very nearly wrecked the entire deception. The D-Day spies were, without question, one of the most unusual military units ever assembled. Although they were not traditional warriors—they fought with words, not weapons—their tales of make-believe helped weave together the greatest deception operation ever attempted.
DOUBLE CROSS has already received high praise and become a bestseller in the UK, with the Telegraph calling it "an utterly gripping story" and the London Evening Standard noting, "Macintyre is a master at leading the reader down some very tortuous paths while ensuring they never lose their bearings. He's terrific, too, at animating his characters with the most succinct of touches. . . . By the end, when all the madness has fallen away, what's left is something much quieter and more resonant—a reminder that heroism can be found in the most unlikely places."
With the same depth of research, eye for the absurd, and masterful narrative voice that have made Ben Macintyre an international bestseller, DOUBLE CROSS is an engaging re-creation of a deception so successful and with such far-reaching consequences that every other wartime spy story pales in comparison.
ABOUT THE AUTHOR: Ben Macintyre is a writer-at-large for The Times of London and the bestselling author of Operation Mincemeat, Agent Zigzag, The Napoleon of Crime, and Forgotten Fatherland, among other books.
Related Posts:
You Might Also Like