Press Releases
Dosa Kitchen by Nash Patel and Leda Scheintaub
Recipes for India's Favorite Street Food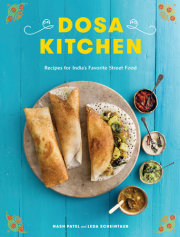 Nash Patel and Leda Scheintaub
Imprint: Clarkson Potter
On sale: June 5 2018
Price: $18.99
Pages: 144
ISBN: 9780451499103
Endlessly adaptable, inarguably delicious, and fun to eat, dosas are light, crisp crepes made of rice and lentils that can be stuffed with or dipped into a variety of flavorful fillings. In the first cookbook dedicated to this South Indian staple, DOSA KITCHEN: Recipes for India's Favorite Street Food (Clarkson Potter | June 5, 2018 | $18.99 | Hardcover), food truck owners Nash Patel and Leda Scheintaub show readers how to make this iconic comfort food at home with a master batter, plus 50 recipes for fillings, chutneys, and even cocktails to serve alongside.
Inspired by the recipes that Nash grew up with and Leda's mission to eat both globally and locally, DOSA KITCHEN is a natural extension of Nash and Leda's popular food truck of the same name. Growing up in South India, Nash learned how to cook—and make his first dosas—by watching his mom in the kitchen. After various stints in the food world, Nash met Leda, a New York–born food writer, at a South Indian restaurant in Manhattan where he was waiting tables. A culinary spark ignited and, soon after, the couple moved to Brattleboro, Vermont—where eating sustainably was a way of life. In 2014, the couple launched their food truck Dosa Kitchen, sharing their love for the dosa and passion for farm-to-table food with locals and destination diners alike.
The recipes in DOSA KITCHEN offer endless variations, while the foolproof technique gives readers the foundation to create their own flavored dosas and fillings. Gluten-free, dairy-free, and fermented, dosas have the nutritional profile that contemporary cooks and eaters want, appealing to dietary restrictions of all kinds without sacrificing heartiness or taste.
Sample recipes include:
VEGAN DOSAS: Nutty Falafel Dosa Wrap with Turmeric Tahini Sauce; Spicy, Tangy Ratatouille Dosa; Chaat Masala Guacamole with Dosa Chips
MEAT, POULTRY, AND SEAFOOD DOSAS: Ginger Chile Beef "Fry" Dosa; Pulled Pork with Tamarind Barbecue Chutney Dosa Wrap; Kerala-Style Fennel Coconut Chicken Dosa
EGG AND DAIRY DOSAS: Cream Cheese, Lox, and Caper Dosa; Paneer Kinpira and Black Sesame Dosa Pancake; Dosayaki with Scallion Tamari Dipping Sauce
SWEET DOSAS: Dosa Blintzes; Caramelized Banana and Bourbon Dosa; Cardamom Chocolate Dosa
DRINKS: Strawberry Rose Lassi; Sweet and Salty Limeade; First-Date Chai
CHUTNEYS: Coconut Chutney; Peanut Chutney; Tomatillo Chutney
With dishes featuring traditional Indian flavors as well as modern, creative twists, any kitchen can become a DOSA KITCHEN!
ABOUT THE AUTHORS:
Nash Patel is the co-owner and chef of Dosa Kitchen, a food truck in Brattleboro, VT. He was born to an Anglo-Indian family in the southern Indian city of Hyderabad.
Leda Scheintaub is the co-owner of Dosa Kitchen. She trained as a chef at the Natural Gourmet Institute in New York and is a recipe tester, editor, and writer. She is the author of Cultured Foods for Your Kitchen and has contributed to many other titles.
# # #
DOSA KITCHEN
Recipes for India's Favorite Street Food
By Nash Patel and Leda Scheintaub
Clarkson Potter/Publishers
On sale: June 5, 2018
ISBN 978-0-451-49910-3 • $18.99 • Hardcover
Related Posts: