Press Releases
Dominate dinner with fifty chicken recipes, each more seductive than the last, in a book that makes every meal a turn-on
Fifty Shades of Chicken: A Parody in a Cookbook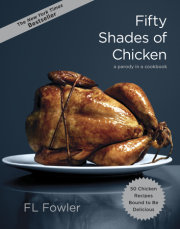 F.L. Fowler
Imprint: Clarkson Potter
On sale: 11/13/12
Price: 19.99
Pages: 160
ISBN: 9780385345224
Contact:
Erica Gelbard
212-572-6182
egelbard@randomhouse.com
If the Fifty Shades of Grey trilogy left you hungry and lusting for more, then sink your teeth into Fifty Shades of Chicken (Clarkson Potter/Publishers; $19.99; on sale November 13, 2012), a cookbook serving up epicurean double entendres and 50 delicious chicken recipes, all while hitting that sweet spot for the can't-get-enough fans of EL James. This is food porn you can really use.
Fifty Shades of Chicken is a naughty tale narrated by an "unexplored" young chicken at the mercy of a demanding foodie's trussing, carving, spatchcocking, and unbearably slow drizzling, among other bedroom kitchen techniques. Soon enough, Miss Hen discovers the pleasures of being whipped up for dinner.
Explore your hunger for something new with recipes such as:
THE NOVICE BIRD: Plain Vanilla Chicken, Chicken with a Lardon, Mustard-Spanked Chicken, Popped-Cherry Pullet
FALLING TO PIECES: CHICKEN PARTS AND BITS: Skewered Chicken, Sticky Fingers, Bacon-Bound Wings, Dripping Thighs
BIRDS GONE WILD: ADVANCED TECHNIQUES: Spatchcocked Chicken, Spread-Eagle Chicken, Erect Chicken, Safeword Fowl
These fifty chicken recipes, each more seductive than the last, will make every dinner a turn-on. Our author knows how to teach kitchen techniques you'll never forget.
ABOUT THE AUTHOR
FL FOWLER is a pseudonym. Fowler has been practicing BD/SM for years—but with poultry.
Related Posts: