Press Releases
DODGERS by Bill Beverly
A Barnes & Noble "Discover Great New Writers" Selection and an Indie Next Pick!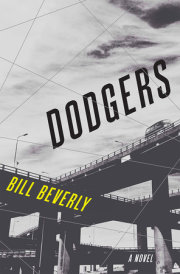 Bill Beverly
Imprint: Crown Publishers
On sale: April 5, 2016
Price: $26.00
Pages: 304
ISBN: 9781101903735
Contact:
Dyana Messina
212-572-2098
dmessina@penguinrandomhouse.com
Select Praise for DODGERS
"A dazzling crime novel that's equal parts coming-of-age tale à la Salinger's The Catcher in the Rye and travelogue à la Kerouac . . . Readers won't soon forget East and his bloody journey of self-discovery and, ultimately, salvation." —Publishers Weekly, starred review
"The premise and execution are terrific, and the prose is remarkable: Beverly does more with a sentence than many writers accomplish in a paragraph. East and his compatriots are old before their time, and yet we never lose the sense that they are still growing up, even if their growing up is like that of soldiers dropped behind enemy lines in their first war. . . . Highly recommended for fans of Richard Price, this is a searing novel about crime, race, and coming of age, with characters who live, breathe, and bleed." —Booklist, starred review
"Dark, edgy, and riveting and, for all that, deeply, humanly serious, Dodgers is white knuckles for the mind. I love this book and will closely follow Bill Beverly forever hereafter." —Robert Olen Butler, Pulitzer Prize–winning author of A Good Scent from a Strange Mountain
"Not only is the fast-paced and masterfully plotted Dodgers one of the greatest literary crime novels you will read in your lifetime, Bill Beverly has also created in the teenage boy East one of the most unforgettable and heartbreaking characters ever encountered in American fiction." —Donald Ray Pollock, author of Knockemstiff and The Devil All the Time
"Propulsive and brutally honest, yet unexpectedly tender, Dodgers is one of the best debuts I've read. I was absolutely gripped by the voice and the world of East and his brother, and surprised at nearly every turn. I audibly gasped at the end." —Attica Locke, author of Black Water Rising and Pleasantville
Standing guard among the cramped row houses, East, the hardened yet heartbreakingly naive protagonist of Bill Beverly's powerful, raw, darkly comic debut, DODGERS (Crown; April 5, 2016), is a shrewd, trusted drug gang watchman in a South Los Angeles neighborhood called The Boxes. Smart, fiercely perceptive, and full of reason in a world of violence, East has risen through the ranks quickly, a lookout at ten and a junior on a house crew by twelve. By fifteen he has his own yard, watching for shifts of twelve hours at a time and directing boys older and stronger than himself. He knows that you do not make boys stand yard all night, that changing in the middle keeps them on their toes. He knows it is not acceptable to have users, referred to by the boys in his crew only as "U's," dying in the house: you take them out; you let them die somewhere else.
But when something goes wrong and the house East guards is raided, he is put on another assignment: to drive across the country to Wisconsin and murder a witness. An unlikely group of three boys, including East's thirteen-year-old brother, Ty, accompany East on the mission. But for East, who has never set foot out of LA, the roadways and rest stops of Middle America prove far more unsettling than the hard world of The Boxes.
DODGERS follows Beverly's unforgettable cast of characters on their transformative journey, crafting at once an utterly captivating, unorthodox crime novel and a remarkable coming-of-age narrative about loyalty and betrayal, conscience and familial ties, and the ways where we are from do and do not define us. Inspired by Richard Price's novel Clockers, Beverly picks up where Price leaves off, exploring what happens when we are forced from the only realities we have known. As the boys confront settings wholly unfamiliar to them, we glimpse the heartrending innocence of even those who have borne witness to and been raised to commit such violence.
As the journey progresses, the boys' mission becomes more complicated, and tensions between them mount. Ultimately, East must choose between returning home, where he is somebody, or going on, to where he might become somebody else. Yet within East's striking story, Beverly also renders something of our own, poignantly capturing that vulnerable period on the cusp of adulthood when we are scared and confused, at once unsure of our consciences but painfully aware of our own agency and the ways our choices define us.
About the Author
BILL BEVERLY grew up in Kalamazoo, Michigan, and studied at Oberlin College and the University of Florida. His research on criminal fugitives and the stories surrounding them became the book On the Lam: Narratives of Flight in J. Edgar Hoover's America. He teaches American literature and writing at Trinity University in Washington, DC.
Related Posts:
You Might Also Like