Press Releases
Doctor Who: The Drosten's Curse by A.L. Kennedy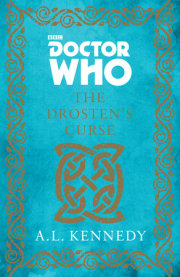 A.L. Kennedy
Imprint: Broadway Books
On sale: July 14, 2015
Price: $9.99
Pages: 368
ISBN: 9780553419443
Contact:
Hannah Frail
212-572-2247
hfrail@penguinrandomhouse.com
From one of the UK's most acclaimed novelists comes a new original Doctor Who novel featuring the beloved Fourth Doctor, as played by Tom Baker
---
Advance UK Praise for Doctor Who: The Drosten's Curse
"Kennedy's delightful way of writing the world around the characters . . . will make you laugh at least once in every short chapter . . . With just one contribution, Kennedy has rapidly risen up to become one of our favorite Doctor Who authors of the modern range. Hopefully there's more where that came from."—Starburst
Praise for A.L. Kennedy
"A force of nature."—New York Times Book Review 
"This woman is a profound writer."—Richard Ford 
"A virtuoso of prose."—London Review of Books 
"One of the most brilliant and eccentric writers of her generation . . . Dazzling."—The Times (London)
---
One of the most influential cult TV shows of all time, BBC's Doctor Who has existed for more than fifty years and continues to be a major U.S. phenomenon. This July, Broadway Books delivers Whovians of all ages another enthralling, time-travelling adventure with Doctor Who: The Drosten's Curse (Broadway Books, July 14, 2015).
In this new novel, award-winning author A.L. Kennedy infuses the much-beloved Fourth Doctor, as played by Tom Baker, with her own unique flair: a comic deadpan at a brisk pace. When the Doctor surprises himself by landing at the Fetch Brothers Golf Spa and Hotel in 1978, he finds himself at the center of some very mysterious disappearances. Unsuspecting golfers have been swallowed up by bunkers. The owner's grandchildren seem to be able to materialize from walls. People can suddenly hear the thoughts of those around them—and don't like what they're hearing. With some help from Bryony, the hotel receptionist, and the helpless, quirky chap who is lovesick over her, the Doctor (equipped with his fetching scarf and floppy hat) begins a risky and altogether preposterous investigation into a fabled danger that, should it actually exist, could easily destroy Earth and the future as the Doctor knows it.
ABOUT THE AUTHOR: A.L. KENNEDY is the author of fifteen books (six novels, six short story collections, and three works of nonfiction). She has twice been selected as one of Granta's Best of Young British Novelists and has won a number of prizes, including the Costa Book of the Year Award, the Somerset Maughman Award, the Encore Award, and the Saltire Scottish Book of the Year Award. She lives in London and is a part-time lecturer in creative writing at Warwick University.
Related Posts: