Press Releases
DO THIS FOR ME by Eliza Kennedy
A Novel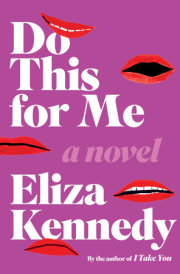 Eliza Kennedy
Imprint: Crown
On sale: May 15, 2018
Price: $26.00
Pages: 336
ISBN: 9781101907207
Contact:
Sarah Breivogel
212-572-2722
sbreivogel@penguinrandomhouse.com
From Eliza Kennedy, author of I Take You, comes a feisty, funny take on sexual politics and a woman in trouble

In her page-turning debut, I Take You, readers met Eliza Kennedy's unforgettable, irrepressible heroine, Lily Wilder. That wickedly entertaining novel received rave reviews from the New York Times Book Review, Entertainment Weekly, People, and NPR, and high praise from Jane Green, Emma Straub, and Gary Shteyngart. Material Pictures' Tobey Maguire and Matthew Plouffe are producing a film adaptation with Whiplash producer Helen Estabrook, with Kennedy writing the screenplay.
In her new novel, DO THIS FOR ME (Crown, May 15, 2018), soon to become a major motion picture for Imagine Entertainment, Kennedy introduces us to a brilliant, off-kilter heroine navigating professional perils and personal calamities. Raney Moore is an ambitious, successful partner at a storied New York law firm, the spouse to a famous writer, and a loving mother of twin girls. Raney has constructed a perfect life—which crumbles when her husband does a Very Bad Thing. Raney swiftly, hilariously unleashes hell on him: cutting off his phone, canceling his credit cards, selling their house, and diabolically impersonating him on Twitter. But once the dust settles, she's stricken with remorse—and curiosity. Who is the man she married? Does she still love him? What on earth should she do now?
Raney embarks on a quest to repair her marriage, which gradually becomes a quest to understand herself. Could she have contributed to her husband's betrayal? Has her pursuit of success blinded her to the struggles of other women in her firm's toxic culture? What is sex all about? What is desire? And what's the deal with that alluring new client and his flirtatious texts?
Aided by a support network of loving friends, enterprising paralegals, goofy coworkers, and one bemused therapist, Raney has an unexpected, glorious breakthrough—which is when her journey back to normal truly spirals out of control.
Uproarious, incisive, and utterly timely, DO THIS FOR ME introduces readers to a woman who is fresh, frank, and perfectly suited to our confusing times.
About the Author: Eliza Kennedy attended the University of Iowa and Harvard Law School. She lives in New York. Do This for Me is her second novel.
Praise for Eliza Kennedy
DO THIS FOR ME: A Novel
"Kennedy tackles gender relations at home and in the workplace in this frank, compulsively readable examination of how one woman balances her exploration of her sexual identity with her career and motherhood."
—Booklist
I TAKE YOU: A Novel
"A saucy first novel. I Take You, as salty-sweet as a margarita, will appeal to fans of Seating Arrangements, Where'd You Go, Bernadette, and, looking further back, Laurie Colwin's Happy All the Time, though it's far more ribald. Kennedy's novel, tailored for summer wedding season, is a sassy paean to pleasure and romantic love that may well leave you singing that classic Gershwin line, 'Better call the calling off off.'"
—Heller McAlpin, NPR.org
"A salty, lively first novel. . . . The book's dialogue is crackling, bawdy, and modern, and Lily's compulsion to step over the line leads to a few memorable scenes."
—New York Times Book Review
"In the first big beach read of the season, New York lawyer and bride-to-be Lily Wilder has a hard time staying faithful to her perfect fiancé—but that won't stop this hilarious debut novel from winning you over and warming your heart."
—Entertainment Weekly
"Saucy, sexy, and funny as hell. All aboard this irresistible train wreck with narrator Lily Wilder. She's a work- (and sex-!) driven, high-powered New York litigator who drinks like a fish and enjoys the company of other men, even if they aren't her fiancé. She's also getting married in Key West in one week. Oh boy! Eliza Kennedy's debut novel will have you blushing, laughing, and loving the lavish antics of our new favorite protagonist. This is your next book club read."
—USA Today
"This debut novel's take on modern gender roles is aggressively provocative. It's also funny and, eventually, wise."
—People
"A whip-smart debut."
—Harper's Bazaar
"The smartest, sexiest, funniest (like, hilarious) beach read on the shelves right now."
—HuffPost
"As close as a book can be to a stellar first date. It's funny, charming, interesting, and smart."
—Glamour.com
"I Take You is fast-paced, with a medley of subplots and interesting characters. It's also an examination of gender roles and cultural expectations . . . an enjoyable read with a darker spin on the chick-lit formula."
—Roanoke Times
"A smart and challenging examination of gender politics and the meaning of marriage in the twenty-first century. . . . Compulsively readable."
—Booklist (starred review)
"Kennedy's debut novel sparkles with candor and wit. . . . [Her] ribald story is both engaging and atypical, the perfect combination for a new voice in women's fiction."
—Publishers Weekly
"In this whirlwind story, which reads not unlike a quickie engagement, the ultimate question is whether one can be both promiscuous and in love. Lily, basking in the glow of Key West's free-love attitude, is guided toward yes. This book has the effect of three Bloody Marys at brunch: it'll leave you flushed, giddy, and prepared to embrace your wild side."
—Kirkus Reviews
"A wickedly funny novel . . . I Take You's intriguing story, deftly drawn characters, and uproariously funny dialogue will, much like Lily's many paramours, enjoyably occupy readers for hours."
 —Shelf Awareness
"I have not laughed this hard or this much at a book since Bridget Jones's Diary. I Take You is wickedly smart, hilariously funny, sexy, clever, and stupidly accomplished for a first novel. In short, the most enjoyable read I have had in years. I completely loved it."
—Jane Green, New York Times bestselling author of Tempting Fate
"HAHAHAHAHAHAHAHA! I Take You is the funniest book I've read all year. I drank four bottles of chardonnay by myself because I couldn't get to a book club fast enough. Eliza Kennedy makes infidelity sexy again!"
—Gary Shteyngart, New York Times bestselling author of Super Sad True Love Story
"I Take You is sexy and smart in equal measure—Eliza Kennedy's heroine Lily Wilder is great fun to be around, even if she's not always sure who she's taking to bed. Kennedy's witty and brash voice will win you over by the end of the first page."
—Emma Straub, New York Times bestselling author of The Vacationers
"This fun, warmhearted novel is the rare great read about love and marriage that doesn't tacitly promote a set of dated ideas about how women should feel, think, and behave. Instead, it romps along merrily while being subtly revolutionary about sexual politics—no small feat, as anyone who's tried to romp merrily while revolting can attest."
—Emily Gould, author of Friendship: A Novel
Related Posts:
You Might Also Like