Press Releases
DIY decorating with style bloggers and "Martha Stewarts of the Anthropologie set," Elsie Larson and Emma Chapman
A Beautiful Mess Happy Handmade Home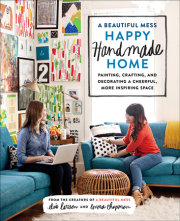 Elsie Larson and Emma Chapman
Imprint: Potter Style
On sale: August 26, 2014
Price: $21.99
Pages: 240
ISBN: 9780770434052
Contact:
Erica Gelbard
212-572-6182
egelbard@penguinrandomhouse.com
Elsie Larson and Emma Chapman, the sisters behind the mega-popular style blog A Beautiful Mess and known as the "Martha Stewarts of the Anthroplogie set," have attracted millions of fans with their whimsical, creative DIY style. With A BEAUTIFUL MESS HAPPY HANDMADE HOME: Painting, Crafting, and Decorating a Cheerful, More Inspiring Space (Potter Style; August 26, 2014; $21.99) they share room-by-room, budget-friendly DIY projects anyone can do to transform their homes.
With the same upbeat spirit and modern style found on their blog, you find more than 100 ideas and brand-new projects including:
An inspired geometric-patterned coffee table made of balsa wood
A hand-lettered statement wall featuring your favorite quote
Beautifully designed custom serving dishes (embellished with permanent marker!)
A quick and easy washi-tape update for your refrigerator
Throughout are fun lifestyle extras and bonus styling tips, from stocking the perfect bar cart and how to shop for "personality pieces" in thrift and vintage stores to hanging the perfect gallery wall and making mismatched furniture work. Each chapter ends with party ideas, complete with decorating DIYs and recipes.
Packed with Elsie and Emma's ingenious decorating wisdom, A BEAUTIFUL MESS HAPPY HANDMADE HOME is destined to become a go-to guide for anyone looking for design inspiration.
About the Authors
ELSIE LARSON and EMMA CHAPMAN are sisters and the founders of A Beautiful Mess, one of the largest lifestyle blogs in the world. In addition to their website, they created the #1 bestselling app for photos A Beautiful Mess, and wrote A Beautiful Mess Photo Idea Book. Elsie and Emma live in southern Missouri with their husbands and too many dogs.
Related Posts: