Press Releases
THE DINNER by Herman Koch
The Bestselling International Phenomenon, Now a Major Motion Picture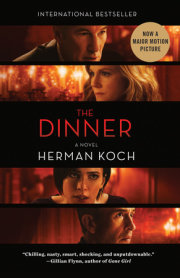 Herman Koch
Imprint: Hogarth
On sale: March 28, 2017
Price: $16.00
Pages: 320
ISBN: 9780804190091
Contact:
Dyana Messina
212-572-2098
dmessina@penguinrandomhouse.com
Directed by Academy-Award® Nominated filmmaker Oren Moverman, Starring Richard Gere, Laura Linney, Steve Coogan, Rebecca Hall, and Chloë Sevigny. In U.S. theaters May 5.
---
Praise for THE DINNER
"Chilling, nasty, smart, shocking and unputdownable."
—Gillian Flynn, author of Gone Girl
"[Koch] has created a clever, dark confection, like some elegant dessert fashioned out of entrails . . . absorbing and highly readable."
—New York Times Book Review
"Half the pleasure of reading The Dinner is feeling the author's steady hand on the story as secrets are revealed. What he puts forward is not only possible, but frighteningly probable. . . . The best part about The Dinner was this tension taking place above the plates. As the meal wore on I realized I couldn't get up from the table."
—NPR's All Things Considered
"A wickedly delicious feast."
—People
"A European Gone Girl . . . The Dinner, a sly psychological thriller that hinges on a horrific crime and its consequences for two families, has become one of spring's most anticipated suspense novels."
—Wall Street Journal
"You'll eat it up, with some fava beans and a nice Chianti."
—Entertainment Weekly (A-)
"[A] deliciously Mr. Ripley–esque drama."
—O, The Oprah Magazine
---
Published in February of 2013, Herman Koch's novel, THE DINNER would become one of the most discussed and debated novels of that year. Already an international bestseller at the time of its U.S. publication, it would go on to spend multiple weeks on the New York Times, USA Today, Los Angeles Times, and IndieBound bestseller lists and was celebrated by media outlets such as the New York Times Book Review, the Wall Street Journal, NPR, USA Today, People, and Entertainment Weekly. On May 5, 2017, The Orchard brings Koch's unnerving novel to theaters in a major motion picture directed by acclaimed filmmaker Oren Moverman and starring Richard Gere, Laura Linney, Steve Coogan, Rebecca Hall, and Chloë Sevigny. For readers who have not yet experienced Koch's disturbing family drama—and those who wish to return to the table—Hogarth offers a new edition of THE DINNER, available on March 28, 2017.
THE DINNER begins innocently enough: two couples sit down for a meal at a sophisticated restaurant. From the opening pages we know they are there to discuss something important, but what exactly that is, Koch doesn't let on right away. Like an onion slowly being peeled away layer by layer, each new course reveals a little bit more about the secrets lurking beneath the pleasantries. Introduced to these characters by our charming and witty narrator Paul, we learn that the other gentleman at the table is his brother, Serge, a rising politician. Paul makes it clear that neither couple particularly enjoys the company of the other, however, circumstances have brought these four together to discuss their fifteen-year-old sons. These boys have done something truly shocking, and the decisions made over this meal will change the lives of both families forever. As the night progresses, the pressure of things unsaid begins to rise to the surface and we witness civility gradually disintegrate between the two parties. Each couple is fighting for their own child and their own, carefully constructed way of life. Like a fellow diner eavesdropping from the next table, Koch pulls his reader into this familial drama and asks unsettling questions: How well do we really know those closest to us? And, if we were truly tested, just how far would we go to protect them? And ourselves?
A complex drama laced with acerbic social commentary, THE DINNER is a novel that demands conversation. Koch's sharp wit and provocative satire chips away at the veneer of genteel society, exposing the raw material underneath and leaving the reader uncomfortably pondering our basest motivations, morals, and sense of self. With taut writing and propulsive prose, THE DINNER pulls you in and holds you transfixed and unnerved in your seat.
# # #
About the Author: Herman Koch is the author of eight novels and three collections of short stories. The Dinner, his sixth novel, has been published in over forty countries and is an international bestseller. He currently lives in Amsterdam.
Related Posts: