Press Releases
In a Different Key: The Story of Autism by John Donvan and Caren Zucker
Two award-winning journalists bring us the history of Autism offering a profound look at how we understand disability.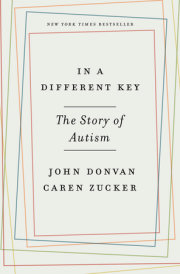 John Donvan and Caren Zucker
Imprint: Crown
On sale: 1/19/16
Price: $30.00
Pages: 688
ISBN: 9780307985675
Contact:
Sarah Breivogel
212-572-2722
sbreivogel@penguinrandomhouse.com
Praise for In a Different Key: 
"This is not a how-to guide or a polemic on neurodiversity. The book probes a difficult subject with intelligence and compassion-and makes you think. The complete absence of hysteria will make it essential reading for many…its insights and quiet wisdom demand our attention, and gratitude."
—Amy Bloom, O, The Opera Magazine
"Remarkable…"In a Different Key: The Story of Autism" tells a riveting tale about how a seemingly rare childhood disorder became a salient fixture in our cultural landscape.  It features vivid portraits of people with autism and their devoted parents and recounts dramatic controversies among well-intentioned and occasionally misguided advocates and doctors who have tried to help those with the condition.  These gripping personal stories give the book tremendous narrative drive."
—Richard J. McNally, Wall Street Journal
"In a Different Key is nothing if not judicious and fair-minded in its approach to a field harried by controversies and enmities from the very start…[the book] is grounded and sensible, which in the contentious world of autism activism constitutes as a kind of grace."
—Laura Miller, Slate
"Their book is crafted like a tightly edited news special: The prose is vivid, the tempo rapid and the perspective intimate, as if each character has been filmed with a hand-held camera."
— Jerome Groopman, New York Times Book Review
"In a Different Key is a story about autism as it has passed through largely American institutions, shaped not only by psychiatrists and psychologists but by parents, schools, politicians, and lawyers. It shows how, in turn, the condition acquired a powerful capacity both to change those institutions and to challenge our notions of what is pathological and what is normal."
— Steven Shapin, New Yorker
"In a Different Key is almost as much a history of coping with ignorance and uncertainty as it is a voyage of discovery…It is the great achievement of this book to show how this happened in an exciting and poignant way."
—Sunday Times
"In a Different Key recounts the many strenuous trials that families have encountered and continue to face. But it also brilliantly illuminates the successes, the strengths and the hope…This [is] a book to be slowly digested and absorbed. Think of In a Different Key as a treatment program for blurred sight. Everyone who reads it will experience newfound clarity."
—Shelf Awareness
"In this compelling, well-researched book, the authors weave together the heroic search by parents for treatment and services for their children with the personal stories of a fascinating cast of characters. An invaluable guide for those dealing with autism and an inspiring affirmation of every individual's contribution to "the fabric of humanity."
—Kirkus, starred review
"Journalists Donvan and Zucker's tremendous study keeps autism at its center while telling an extraordinary tale of social change…Viewed as a whole, the narrative ultimately reveals a transition from an emphasis on treating individual cases to a more society-wide effort for advocacy and inclusion- an effort that this book will do much to advance."
—Publishers Weekly
"In a Different Key transports the reader back to the earlier days of autism.  It is essential reading for anyone who is interested in how society treats those who are different."
—TEMPLE GRANDIN, author of Thinking in Pictures and The Autistic Brain
"In this absorbing book, John Donvan and Caren Zucker provide a comprehensive history of autism: identifying records that point toward the existence of the condition long before it was named; unpacking the evolution of the diagnosis; chronicling the history of blame attached to it; and narrating its explosion as one of the most common syndromes among children today. Fast-paced and far-reaching, this book contextualizes the arguments that autism is a horrifying epidemic with those that say it is a valuable aspect of human diversity. This is an important missing piece to the conversation about autism; no one trying to make sense of the spectrum should do so without reading this book."
—ANDREW SOLOMON, author of Far from the Tree
"Sweeping in scope but with intimate personal stories, this is a deeply moving book about the history, science, and human drama of autism. It's also something larger: a fascinating exploration of a social movement that grappled with the mysteries of mind, behavior, and the relationship between parents and children."
—WALTER ISAACSON, author of The Innovators and Steve Jobs
"In this long-awaited work, Donvan and Zucker sensitively and accurately portray the emergence of understanding of this thing we now call autism, a story that goes back hundreds of years. They make a compelling case for autistic traits—gift and disability alike—being part of the human condition. In the words of child psychiatry pioneer Leo Kanner, autism was 'always there,' even before the diagnosis was invented. In a Different Key also provides a fresh take on the issue of neurodiversity in all its complexity."
—JOHN ELDER ROBISON, author of Look Me in the Eye and Switched On
"Donvan and Zucker's generous yet sharp-eyed portraits of men, women, and children—most of them unknown until now—make it stunningly clear that we all have a stake in the story of autism. We come to understand that we are all wired differently, and that how we treat those who are different than most is a telling measure of who we truly are. This is the kind of history that not only informs but enlarges the spirit."
—SUSAN CAIN, author of Quiet: The Power of Introverts in a World That Can't Stop Talking
"Autism remains one of the great medical mysteries of our time and this is the first book to fully document the decades of efforts by parents, doctors and society to deal with it—so far. For, as the authors say, this is a story that is far from over. In A Different Key is a monumental piece of journalism that promises to be a classic, a comprehensive baseline for evidence only future research can reveal. It is written with clarity and grace, and with heart, because the authors have both lived with autism in their own families."
—ROBERT MACNEIL, former anchor and co-founder of PBS NewsHour
"In a Different Key is filled with gripping personal histories that powerfully illustrate the mistakes and malpractices in the diagnosis and treatment of autism; the courage and resilience of those who fought for better treatment and deeper understanding; and the sheer variability of people who are given the autism label and too often lumped together as 'disabled.' A fascinating and revealing read, even for those with no personal connection to the topic."
—STEPHANIE COONTZ, author of The Way We Never Were: American Families and the Nostalgia Trap
"Bravo to Donvan and brava to Zucker. Comically/tragically, autism's history is as emotionally dysfunctional—and as beautiful—as it gets. Finally, we all have an exhaustive reckoning."
—MICHAEL JOHN CARLEY, founder, GRASP; author of Asperger's From the Inside Out
"Donvan and Zucker delve deep into both the science and the politics of autism across time. They tell the story of the extreme treatments that have been tried, such as administering LSD or electric shocks in the '60s, to 'normalize' these children. They uncover the tragic 'mercy killing' of a teenager with autism by his father, and explore the MMR vaccine-causes-autism theory, named by TIME magazine as top of the list of 'great science frauds.' This book makes a remarkable contribution to the history of autism."
—SIMON BARON-COHEN, author of The Essential Difference; Director, Autism Research Centre, Cambridge University
"This one volume captures the textured and sometimes turbulent story of autism in all of its facets: as a scholarly and  scientific endeavor, as a political and legal enterprise, as a  social movement.  Most especially it embeds these developments within stories of people whose lives defined and shaped the course of autism. In a Different Key is authoritative and utterly absorbing."
—JUDITH FAVELL, past president, Developmental Disabilities Division, American Psychological Association
"Autism is a shape changer that has continuously resisted being pinned down. This meticulously researched book leads us deeply into the history of autism and brings to life the colourful personalities and conflicting ideas that deepen the fascination of autism."
—UTA FRITH, Emeritus Professor of Cognitive Development at University College London
___________________________________________________________________________________________________________________________________________
Eighty-two years ago in Forest, Mississippi, a boy named Donald Triplett was born, who was destined to become the first child in history diagnosed with autism. But that was only after his mysterious behaviors led his parents on a love-driven journey to understand why their son was different from other children, and how he could be helped. It would take them years of patient determination, and one extraordinary clinician, before the diagnosis of autism was even conceived. Since then, recognition of autism has traveled far and grown exponentially—becoming, ultimately, the most talked about diagnosis of our day. In this profoundly humane and beautifully rendered history, John Donvan and Caren Zucker unfold the full, magisterial, decades-long narrative—the story of autism—as a series of dramatic episodes, never told before with such intimate power. Some are dark: children in institutions being shocked with electricity and fed LSD; mothers being told that they were the cause of autism; and even a father killing his autistic son out of the desperate thought that he'd be better off dead. But there are many, many heroic moments as well: those of autistic people, autism parents, and scientific amateurs who changed the world as we know it in classrooms, courtrooms, the media, and elsewhere. Setting out from that Mississippi town where Donald still lives today, this is an unforgettable portrait of science, parenthood, empowerment, and the meaning of "being different" in the twenty-first century.
More than seven years in the making, IN A DIFFERENT KEY: The Story of Autism (Crown, on sale January 19, 2016), by Emmy Award–winning correspondent John Donvan and Peabody Award–winning television news producer Caren Zucker, weaves together largely unknown stories of previously unsung heroes, whose ingenuity, perseverance, and resilience offer new insight into some of the seminal moments of the past near-century: the rise of the disability rights movement, deinstitutionalization, the effort to mainstream those on the spectrum, breakthroughs in neuroscience and our understanding of the mind, and the birth of the neurodiversity movement. Donvan and Zucker, whose own families have been affected by autism, have been on the front lines of reporting on the social, medical, and legal aspects of autism since 1999, even before it became a national topic of conversation. Their groundbreaking ABC News series, Echoes of Autism, launched in the early 2000s as network television's first regular autism beat. Their article "Autism's First Child," which planted the seed for this book, was a finalist for the 2011 National Magazine Award in Profile
Writing. As Donvan and Zucker explain, it is striking to see how ordinary people—so often parents who were merely following an instinct to do right by their child—were at the forefront of creating major social change, and a realignment in the priorities of scientific research. Just as impressive is how, in time, this activism came to include the full participation of many more autistic people themselves. In this way, IN A DIFFERENT KEY presents autism as a revealing lens on society's mixed record in the slow-moving project that is the acceptance and celebration of those who are different.
Written by two journalists personally committed to widening respect, understanding, and support for the loved ones in their families—and in every family touched by autism—IN A DIFFERENT KEY is an eloquent and passionate investigation that sheds light on how all our brains are wired, while making the story of autism one we are all in together. With a cast of characters as complex and indelible as those in The Immortal Life of Henrietta Lacks and Far from the Tree; the power and sweep of The Emperor of All Maladies; and the compelling portrait of a culture and community found in And the Band Played On, IN A DIFFERENT KEY is poised to become a landmark book.
ABOUT THE AUTHORS: John Donvan is a correspondent for ABC News, and host/moderator of the Intelligence Squared U.S. Debates. Caren Zucker is a 25-year veteran of ABC News, and producer and co-writer of the PBS Series Autism Now.
Related Posts:
You Might Also Like