Press Releases
How Race Still Enslaves the American Soul
A powerful polemic on the state of black America that savages the idea of a post-racial society, from a promising new public voice at Princeton University.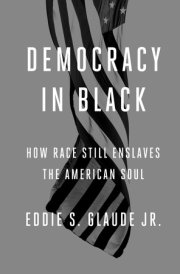 Eddie S. Glaude Jr.
Imprint: Crown
On sale: 1/12/16
Price: $26.00
Pages: 288
ISBN: 9780804137416
Contact:
Liz Esman
212-572-6049
lesman@penguinrandomhouse.com
"Eddie Glaude speaks some hard truths in this important new book. Glaude is the fiercest of thinkers, and this book is a brilliant and crucial prescription for necessary change."
—Henry Louis Gates Jr. 
"This powerful and timely book should shape the framework for a post-Obama America—a bold rejection of black liberal politics and a prophetic call for a revolution of value that reinvigorates our democratic life with imagination and courage."
—Cornel West
"Democracy in Black tells necessary truths about the state of race and justice in America and challenges us to embrace genuinely—not merely rhetorically—the revolution of values preached by Dr. King."
—Michelle Alexander, author of The New Jim Crow
"Eddie Glaude has written a book that challenges and demands as well as one that informs and inspires. This is a very important book. I am better for having read it and even more motivated in my work and mission."
—U.S. Senator Cory Booker
"Eloquent and impassioned, insightful and factual, Democracy in Black powerfully reimagines black politics and presents strategies for remaking American democracy."
—Nell Irvin Painter, Edwards Professor of American History, Emerita, Princeton University, and author of The History of White People
"Democracy in Black is an urgent, clear-eyed manifesto. It proves not only that Black Lives Matter, but also that Black social movements matter if the nation ever hopes to list the veil of racism and long shadow of slavery."
—Robin D. G. Kelley, author of Freedom Dreams: The Black Radical Imagination
"Eddie Glaude writes compellingly of the collective moral and intellectual failures locking Americans into a repetitive 'human alue gap.' This book documents why and how race remains our ultimate, even dedicated, civic irrationality."
—Patricia J. Williams, author of Seeing a Color-Bling Future
"Democracy in puts a Toni Morrison question to a nation 'between worlds': 'Wanna fly?' Listen up: 'You got to give up the shit that weighs you down.' Easier said than done. Read all about it. I did. Now I'm thinking about it all."
—Robert P. Moses, president, The Algebra Project, Inc.
"Democracy in Black tells a powerful story about democracy in action in the streets of Ferguson. People should read it and be transformed by Eddie Glaude's call for a revolution of values. I hope it is read widely."
—James H. Cone, Union Theological Seminary
"This is every bit as important a book as Coates' more personal account: essential reading."
—Booklist (starred review)
"An illuminating analysis of the crisis in black communities in the wake of the deaths of Trayvon Martin, Michael Brown, Sandra Bland, and others…A powerful and thoughtful call for 'a revolution of values and a radical democratic awakening' aimed at ending America's persistent racial crisis."
—Kirkus Reviews 
"Glaude's well organized, thoughtful and succinct manifesto will inspire healthy debate and further inform people's perspectives of how race affects African Americans today."
—Library Journal 
______________________________________________________________________________________________________________________________________
Race relations, or a lack thereof, are front-page news on a daily basis. For most black Americans, the promise of equality rings hollow and false, a feeling made palpable by the deaths of Eric Garner, Michael Brown, and others, and one that defines the lived experience of too many everyday people. This inequality is apparent in every aspect of American life today, from housing and employment to education and government assistance.
With DEMOCRACY IN BLACK: How Race Still Enslaves the American Soul (Crown; on sale January 12, 2016), Eddie S. Glaude Jr., the William S. Tod Professor of Religion and African American Studies and the chair of the Department of African American Studies at Princeton University, delivers a stirring reflection on the state of black America, making a grand argument as to how we've reached such an impossible place—and how we can change it.
Some Americans believe that the election of the nation's first black president signaled a turning point in the country's legacy of racism and discrimination. Glaude offers a starkly different view, citing increased police brutality, the Supreme Court's dismantling of the Voting Rights Act, and the disaster visited upon middle-class black families by the Great Recession among the indicators that black America is in a state of dire emergency. The value gap, the belief that white
people are valued more than others, is just as apparent today as it was upon the founding of this country, no matter our stated principles or how much progress we think we have made.
DEMOCRACY IN BLACK positions Glaude as a new voice of authority on race. Part manifesto, part history, part memoir, it makes the case that multiple forces have conspired to deepen the impoverishment of black communities. Whether discussing the disproportionate wealth lost by blacks after the bursting of the housing bubble, the complacency of black leaders who make much noise but little progress, or the vicious cycle in which white fear limits black political expressions, Glaude crystallizes the untenable position of black America.
DEMOCRACY IN BLACK offers a better way forward through a revolution of value that involves three basic components:
A change in how we view the government
A change in how we view black people
A change in how we view what ultimately matters to us as Americans
These components, along with other important grassroots movements, will give Americans the power to set a new course for the nation.
Glaude has written a landmark book on race in America. DEMOCRACY IN BLACK promises to spark wide discussion as we move toward the end of our first black presidency.
About the Author: Eddie S. Glaude Jr. is the William S. Tod Professor of Religion and African American Studies and the chair of the Department of African American Studies at Princeton University. He is the recipient of numerous fellowships and awards, including the 2002 Modern Language Association William Sanders Scarborough Prize for his book Exodus! Glaude is on the editorial board of the Journal of the American Academy of Religion, African American National Biography, and Contemporary Pragmatism. Professor Glaude's work also includes African American Religious Thought: An Anthology (2004) coedited with Cornel West.
Related Posts: