Press Releases
Delicious and simple: one pot meals from Martha Stewart Living
One Pot from the Kitchens of Martha Stewart Living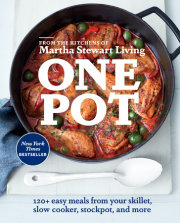 The Kitchens of Martha Stewart Living
Imprint: Clarkson Potter
On sale: September 23, 2014
Price: $26.00
Pages: 256
ISBN: 9780307954411
Contact:
Kate Tyler
212-572-2551
ktyler@penguinrandomhouse.com
For home cooks, there's nothing better than a delicious meal that's easy to prepare and requires minimal clean-up. That's just what the editors of Martha Stewart Living have delivered in their newest cookbook, ONE POT: 120+ Easy Meals from Your Skillet, Slow Cooker, Stockpot, and More (Clarkson Potter/Publishers; September 23, 2014; $26.00; Trade Paperback). This collection of comforting weeknight favorites features recipes that call for—you guessed it—just one dish, whether it be a skillet, a roasting pan, a slow cooker, or a stockpot.
From chicken and vegetables that roast in the same pan to skillet lasagna, baked risotto, stews, down-home casseroles, and even desserts, One Pot serves up big flavor with little effort. Sample recipes include:
Dutch Oven: Beef Stew with Noodles; Chicken and Dumplings; Arroz con Pollo; Lamb and Apricot Stew; Sausage, Chicken, and White Bean Gratin; Baked Risotto with Carrots and Squash
Skillet & Sauté Pan: Pork Chops with Warm Escarole Salad; Shrimp with Tomatoes and Orzo; Braised Chicken with Potatoes and Lemon; Spinach Pie; Curried Chicken Potpie
Slow Cooker: Corned Beef and Cabbage; Spicy Turkey Chili; Classic Pot Roast with Sweet Potatoes and Prunes; Lamb Shanks and Potatoes
Roasting Pan & Baking Dish: Broiled Striped Bass with Tomatoes; Provençal Vegetable Tian; Roast Chicken with Herb Butter; Mexican-Style Lasagna
Pressure Cooker: Chicken Cacciatore; Beef, Barley, and Vegetable Soup; Risotto with Brussels Sprouts and Pancetta; Irish Beef Stew with Stout; Pork and Hominy Stew
Stockpot & Sauce Pan: Minestrone; Sweet Potato and Sausage Soup; Stovetop Clambake; Pasta with Farm-Stand Vegetables; Kimchi Stew with Chicken and Tofu
Desserts: Rustic Apple Tart; Skillet Chocolate-Chip Cookie; Raspberry Sorbet; Blender Chocolate Mousse; Fruit Skillet Cake
In true Martha Stewartstyle, One Pot is chock-full of beautiful, mouthwatering photographs and dozens of tips and notes for each cooking method.
ABOUT THE AUTHOR:
MARTHA STEWART LIVING magazine was first published in 1990. Since then, more than three dozen books have been published by the magazine's editors, including the recent bestselling Martha Stewart's Cakes, Martha Stewart's Cookies, Meatless, and Everyday Food: Great Food Fast and its follow-up, Everyday Food: Fresh Flavor Fast.
MARTHA STEWART is America's most trusted lifestyle expert and teacher and the author of more than eighty books on cooking, entertaining, crafts, homekeeping, gardening, weddings, and decorating.
Related Posts:
You Might Also Like