Press Releases
The Deleted Emails of Hillary Clinton
A Parody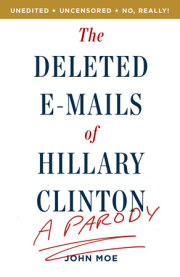 John Moe
Imprint: Three Rivers Press
On sale: September 22, 2015
Price: $13.00
Pages: 160
ISBN: 9781101906071
Contact:
Ellen Folan
212-782-8944
efolan@penguinrandomhouse.com
This spring, the New York Times reported that Hillary Clinton used a personal e-mail account, rather than the governmental one issued to her, during her time as Secretary of State. When further reporting revealed that thousands of these e-mails had been deleted from the account, a media firestorm began and a scandal was born. Both parties agree that Clinton's explanations were shabby, and her rationale for erasing e-mails before handing them over to the government was suspicious. (Why delete thousands of e-mails "about her daughter's wedding"?) Conspiracies floated around the news and lasted as a major story for weeks. Conservatives have called the controversy "the new Benghazi."
Since then, the State Department has released several batches of these private e-mails to the public and are planning to release everything they have—read: everything that was turned over to them—between now and January 2016. But what happened to the other e-mails? The deeply private correspondences deemed "personal" and dumped by Clinton staffers before ever being handed over to State?
Thanks to John Moe and the good people of WikiLoox, a group of ingenious cyber freedom fighters who comb the remote recesses of the deep Web to gain access to secret, secret, ultra-secret governmental documents, THE DELETED E-MAILS OF HILLARY CLINTON (Three Rivers Press; Paperback Original; September 22, 2015) will be the only place to find the most important and heretofore unseen e-mails from her private archive—the ones that State never got their hands on. Readers will be privy to intimate conversations with family (Bill, Chelsea), friends (Ruth Bader Ginsburg, Meryl Streep, Huma Abedin, Beyoncé, Oprah), and frenemies (Obama, Palin, Putin) alike. They will also learn essential details about, and view artifacts from, Clinton's private life, including her thoughts on yoga, baking cookies, and Olivia Pope; responses to her Goodreads reviews; and the National Secretary's Day e-card she sent Condi and Madeleine.
This book of critical national importance will give us the full portrait we need of the woman we may soon call "Madam President." On her journey from mother-of-the-bride to commandress-in-chief, we will see how she handled challenging situations, including how to respond to those people who "reply all" and how to wrangle pantsuit retailers as they compete, with increasing desperation, for her attention. At last we will finally learn everything we need to know about the one who will rule us all.
ABOUT THE AUTHOR:
JOHN MOE is a McSweeney's contributor, writer, podcaster, and host of American Public Media's comedy and music show Wits. He lives in St. Paul, Minnesota.
Visit www.deletedemails.tumblr.com to learn more.
Related Posts: