Press Releases
Deepak Chopra asks "What are you hungry for?"
The Chopra Solution to Permanent Weight Loss, Well-Being, and Lightness of Soul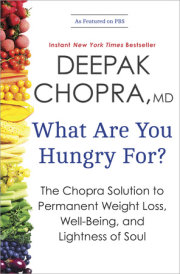 Deepak Chopra
Imprint: Harmony Books
On sale: November 12, 2013
Price: $26.00
Pages: 304
ISBN: 9780770437213
Contact:
Ayelet Gruenspecht
212-782-9016
agruenspecht@randomhouse.com
A few years ago Deepak Chopra realized that even though he ate well, gave up tobacco and alcohol long ago, and generally had good exercise habits, he was not maximizing his mind and body connection to food—and the result was that he was carrying 20lbs more than his ideal weight.  "I had become a statistic," writes Chopra, "joining the two-thirds of Americans who are either overweight or obese."  He knew that going on a diet was futile – numerous studies prove that the rebound effect of dieting makes you regain the weight you lost on your diet, and then some. In WHAT ARE YOU HUNGRY FOR? The Chopra Solution to Permanent Weight Loss, Well-Being, and Lightness of Soul, he shares the steps he took to get his body back in balance, explaining how to stop a pattern of crash dieting and unhealthy patterns and ultimately attain a state of awareness eating – where weight loss happens effortlessly and permanently.
Over the last three decades Dr. Chopra has made considerable breakthroughs that have helped millions around the world live healthy and more fulfilling lives. According to him, what's missing for most people is a deeper awareness of why they overeat—in the search for satisfaction they wind up using food as a substitute for spiritual and emotional nourishment.  And the reason why crash diets don't work is because they don't address the real issue–finding true fulfillment. In WHAT ARE YOU HUNGRY FOR? the bestselling author asks readers to dig deep and decide if they're reaching for food because they're actually hungry or because they're depressed, overwhelmed, angry, or unmotivated in their lives.  The book offers the latest findings in both mainstream and alternative medicine and a plan for how anyone can bring weight under control.  Chopra demonstrates how to:
Transform your awareness to your body, emotions, and choices
Reverse negative messages with new optimistic thoughts
S-T-O-P cravings by stopping what you're doing, taking a 1-minute breathing break, observing your bodily sensations, and proceeding with awareness
Infuse your life with purity, energy, and balance
Eat not just for fuel, but simply for the joy of eating
Choose foods that are fresh, organic, and loaded with nutrients
Prevent illnesses long before they appear by living a harmonious lifestyle
This inspiring and practical breakthrough book aims to help readers keep their weight under control, body in balance, and soul light by pursuing ways to long-lasting fulfillment in their relationships, jobs and homes.
Moreover, Chopra includes forty delicious recipes to help readers make healthy decisions in the foods they eat. Whether overweight and feeling sluggish, suffering from a poor body image, or simply looking for something more in life, WHAT ARE YOU HUNGRY FOR? will inspire readers to find new ways of being happy.
Related Posts: