Press Releases
The debut cookbook from national pie champion, mom, homemaker, and self-proclaimed redneck, Francine Bryson
Blue Ribbon Baking from a Redneck Kitchen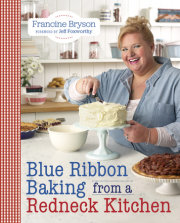 Francine Bryson
Imprint: Clarkson Potter
On sale: September 9, 2014
Price: $22.00
Pages: 240
ISBN: 9780804185783
Contact:
Erica Gelbard
212-572-6182
egelbard
National pie champion, mom, homemaker, and self-proclaimed redneck, Francine Bryson and her award-winning desserts won the hearts of bakers everywhere when she appeared on CBS'sThe American Baking Competition and went on to become a finalist on the show. In Blue Ribbon Baking from a Redneck Kitchen (Clarkson Potter; September 9, 2014; $22.00; Trade Paperback)Franny shares her recipes and baking tips with everyone while staying true to her Southern roots, which means pairing chocolate and peanut butter with bacon, turning an apple pie upside down, using cherry pop in a cake, and always making use of seasonal fresh fruit—and plenty of cream cheese.
As Jeff Foxworthy, The American Baking Competition's host, writes in the foreword, "For Francine, cooking is a love language. When I asked Francine what she wanted the most [from the show], she whispered, 'The cookbook.' See, she has an album full of family recipes that go back to before the turn of the last century, most in their original handwriting. This was a treasure to her, and to share it was her heart's desire."
Some recipes featured in Blue Ribbon Baking from a Redneck Kitchen  include:
PIES: I Dream of Bobby Deen Peanut Butter Pie, Chocolate-Key Lime Heaven Pie, Pretzel Pie, Blackberry Blow-Ya-Away Pie
COOKIES & BARS: Slap-Ya-Mama Fudge Cookies, Eggnog Cookies, Iced Oatmeal Cookies, Classic Southern Lemon Bars
CAKES LIKE GRANNY MADE: Nana's Iced Pound Cake, Keep-The-Hubby-At Home Cake, Blue Ribbon Pumpkin Cake, Mama's Strawberry Cake
CHEESECAKES: Peanut Butter Cup Cheesecake, White Chocolate-Peppermint Cheesecake, Turtle Cheesecake, No-Bake Oreo Cheesecake
SUNDAY GO-TO-MEETING: Catch-A-Husband Blackberry Cobbler, Honey Bun Cake, Crock-Pot Monkey Bread, Southern Rice Pudding
BAKED GOODS TO SHOW OFF: Upside-Down Apple-Pecan Pie, World-Famous Chocolate Bacon Peanut Butter Pie, Turtle Cake Roll, Chocolate Whoopie Cake
CANDY & TRUFFLES: Aunt Thelma's Peanut Butter Balls, Redneck French Truffles, Old English Toffee, Oreo Truffles
BISCUITS & BREADS: Apple Pie Bread, Redneck Cracklin' Corn Bread, Biscuits Like Nana Made, Donut Muffins
Blue Ribbon Baking from a Redneck Kitchen is filled with Franny's down-home Southern charm and sass and she finally shares her sought-after recipes and the tips she learned from generations of women in her Southern family and then refined during her twenty-plus years of competing on the baking circuit.
ABOUT THE AUTHOR:
FRANCINE BRYSON has won more than 200 local and national baking competitions and was the runner-up and crowd favorite on CBS's The American Baking Competition. Her childhood home in Greenville, South Carolina, was located between those of her Nana and Granny, both keen bakers who started teaching their secrets to Francine  when she was barely tall enough to reach the countertop. A member of the American Pie Council, she lives with her husband in Pickens, South Carolina. Francine's first television show is currently in development.
Related Posts:
You Might Also Like