Press Releases
The debut cookbook from the beloved Big Gay Ice Cream, delivered in a unique and over-the-top fun yearbook style that takes you deep into the methods of their madly delicious ice cream, sundaes, and dreamy toppings and concoctions.
Big Gay Ice Cream: Saucy Stories & Frozen Treats: Going All the Way with Ice Cream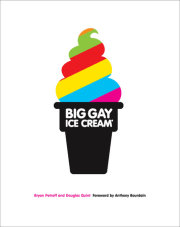 Bryan Petroff and Douglas Quint
Imprint: Clarkson Potter
On sale: April 28, 2015
Price: $25.00
Pages: 192
ISBN: 9780385345606
Contact:
Sean Boyles
212-782-9003
sboyles@penguinrandomhouse.com
Big Gay Ice Cream: Saucy Stories & Frozen Treats: Going All the Way with Ice Cream (Clarkson Potter; $25.00; on sale April 28, 2015) is the highly anticipated debut cookbook from Big Gay Ice Cream, one of the most popular and critically acclaimed ice cream companies in the United States.
Instead of tackling the tricky trappings of ice cream making from the get-go, Big Gay Ice Cream turns the traditional format of ice cream books on its head. Big Gay Ice Cream is a four-year journey delivered in a unique high school yearbook style, taking you from easy freshman year mix-ins to sophomore year toppings, junior year sundaes and shakes, and finally, senior year recipes for homemade ice creams and sorbets—all with plenty of outrageous stories, cheeky humor, vibrant photography and illustrations, and plenty of culinary and celebrity cameos along the way (including an introduction by Headmaster Anthony Bourdain).
Dive into the world of co-owners Bryan Petroff and Douglas Quint's madly delicious frozen treats and understand why the Village Voice called Big Gay Ice Cream "a cross between Mister Softee and Mario Batali."
Highlights include:
Freshman Year: Ice Cream 101
New to making ice cream at home? Never fear! Start off simple: learn the science behind making ice cream; the right kitchen tools for your cooking level; fun topping and flavor ideas; and how to stock your fridge and pantry by shopping for unusual, mix-and-match store-bought toppings.
Sophomore Year: Dress Up Your Ice Cream with Homemade Toppings and Sauces
Time to kick it up a notch with an entire section devoted to sauces and crunchy toppings that are both tasty and easy to make at home.
Junior Year: Some Assembly Required—Sundaes, Floats, and Shakes
Put your newfound recipe skills to work by creating an array of frozen treats inspired by some of Big Gay Ice Cream's top-selling menu items.
Senior Year: Let's Go All The Way! Sorbets and Ice Creams
Now it's time to get serious with a collection of sorbet and ice cream recipes that you're sure to love.
# # #
ABOUT THE AUTHORS:
BRYAN PETROFF and DOUGLAS QUINT are the founders and owners of Big Gay Ice Cream, voted one of the best ice cream shops in the world. They debuted as a food truck in June 2009 and have since expanded to two storefronts in New York, with more opening soon in Los Angeles and Philadelphia. The award-winning duo has been featured on countless websites and in publications, as well as on network and cable television and radio programs. Bryan and Doug can be found on either coast and at biggayicecream.com.
Related Posts:
You Might Also Like