Press Releases
DEAR MR. M by Herman Koch
From the internationally bestselling author of THE DINNER and SUMMER HOUSE WITH SWIMMING POOL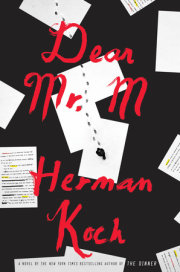 Herman Koch
Imprint: Hogarth
On sale: September 6, 2016
Price: $26.00
ISBN: 9781101903322
Contact:
Dyana Messina
(212) 572-2098
dmessina@penguinrandomhouse.com
Advance Praise for DEAR MR. M
"A totally engrossing blend of thriller and literary fiction that will take you into that Twilight Zone 'middle ground between light and shadow' and hold you there for awhile afterward . . . It requires your complete attention, but when you give it, you will be absorbed by the clever prose. . . . Dear Mr. M is bound to find a strong audience, especially among fans of Lionel Shriver and Megan Abbott." —Booklist
"Koch is consistently attuned to our hidden foibles and fakery, which makes for deliberately discomfiting reading." —Kirkus Reviews 
"[Koch] keeps the reader pleasantly off balance. . . . His sardonic sense of humor and dark perspective on human failings give the novel a greater, more satisfying depth than the usual thriller." —Publishers Weekly
---
Herman Koch's novels have been described as "disturbingly good . . . psychologically rich . . . deftly paced . . . compelling" (USA Today); "an assault of unexpected twists and thumbscrew-turning tension" (Entertainment Weekly); and "absorbing and highly readable" (New York Times Book Review). A New York Times, USA Today, Los Angeles Times, and IndieBound bestselling author, Koch first came to the attention of American readers in 2013 with The Dinner, his explosive U.S. debut. A disturbing family drama—soon to be a major motion picture adapted and directed by Oren Moverman and starring Richard Gere, Steve Coogan, Laura Linney, Rebecca Hall, and Chloë Sevigny—The Dinner posed uncomfortable questions that sparked passionate debate among readers and critics alike. Koch upped the ante with Summer House with Swimming Pool, a novel that the Washington Post described as "ghoulishly fascinating" and for which the New York Times said "[Koch] makes Nietzsche sound like Dale Carnegie." With his new novel, DEAR MR. M (Hogarth; September 6, 2016), Koch moves in a new direction, crafting a taut, multilayered novel of psychological suspense that was an instant runaway success in his native Holland. While a departure from his previous two novels, DEAR MR. M bears the hallmarks that have become Koch's signature—sharp wit and a keen eye for human behavior that will leave readers at once completely transfixed and utterly unnerved.
In DEAR MR. M, Koch turns to a subject matter close to home: publishing. Mr. M rose to international acclaim with the publication of his novel, Payback, a "ripped from the headlines," true-crime novel based on the case of a missing teacher. After an affair with one of his students, this well-liked teacher disappeared without a trace. Foul play was suspected and the young student and her new boyfriend came under suspicion, though no case was ever officially made—at least in reality. In his fictional account, Mr. M crafted a bestselling narrative that would make him one of the world's most acclaimed authors. That was a long time ago, however, and with each passing year and each new book, Mr. M loses more of his luster. Though he'll never admit it, Mr. M is fading into obscurity—but perhaps his young neighbor can change that. A journalist, Mr. M's neighbor would like to interview Mr. M for a major publication that will secure his rightful place in the literary canon—or at least that's what this man wants Mr. M to think. Through alternating perspectives, Koch takes his readers into the world of Mr. M—both the real and the fictional—where fates converge and where the truth is truly stranger than fiction.
In DEAR MR. M, Koch has crafted a propulsive and complex mystery that is laced with the sharp satire and unflinching examinations of societal behaviors that are his calling card.
###
About the Author
Herman Koch is the author of eight novels and three collections of short stories. The Dinner, his sixth novel, has been published in over forty countries and is an international bestseller. He currently lives in Amsterdam.
Related Posts: