Press Releases
Dear Luke, We Need To Talk. Darth by John Moe
And Other Pop Culture Correspondences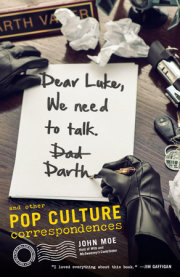 John Moe
Imprint: Three Rivers Press
On sale: June 10, 2014
Price: $15.00
Pages: 304
ISBN: 9780385349109
Contact:
Lauren Cook
212-782-9486
LCook@RandomHouse.com
In the riotously funny collection DEAR LUKE, WE NEED TO TALK. DARTH, John Moe, host of American Public Media's nationally syndicated public radio show Wits, uses his imaginative sense of humor and keen eye for nostalgia to offer a fresh twist on the pop culture classics we thought we knew by heart. Through fictitious e-mails, text messages, letters, memos, and diary entries, he hilariously reveals the farcical backstories of songs we all know, TV shows we all watched, and movies we all loved (or secretly hated).
From Cheers to Hogwarts, from Billy Joel to Barney, Moe leaves no stone unturned.
Read Darth Vader's unsent letters to Luke Skywalker as found in his trash can
Learn about the other money-making opportunities Walter White considered before deciding to cook meth
Find out why E.T. was really "left behind" on Earth
Discover a chalkboard message from Gunther, owner of Central Perk, to Rachel
Check out rejected Super Bowl halftime show proposals
Read Don Draper's recipe cards
And learn all of Jay-Z's 99 problems
Like a bonus track to a favorite CD or a deleted scene from a cult movie, DEAR LUKE, WE NEED TO TALK. DARTH is a fun and lovable celebration of our most treasured pop culture figures.
***
"Dear Luke, We Need to Talk. Darth ranks among the finest collections of nonsense ever assembled. For those seeking hilarity in short bursts of pop culture inanity, this book is for you."
—Michael Ian Black
"Dear Luke, We Need to Talk. Darth is proof that a funny book on pop culture doesn't have to be snide and nasty. I loved everything about it." 
—Jim Gaffigan
"John Moe has been making me laugh for 1,249 years (we are both immortal), and Dear Luke is, not surprisingly, EXTREMELY FUNNY. I expect him to entertain us all for another 1,249, unless I am able to hunt him down and cut off his head before then, because there can be only one."
 —John Hodgman
"This book made me laugh while learning, which is the best kind of funny. Knowledge that comes from a laugh is so much better than coughing that comes from a laugh." 
—Margaret Cho
"This book of brilliant parodies, riffs, and flights of pop culture fantasy shows why John Moe has so quickly risen to become the second funniest man in public radio."
—Peter Sagal, host, NPR's Wait Wait . . . Don't Tell Me
***
John Moe is the host of Wits, a nationally syndicated show on Minnesota Public Radio. He also writes a popular column for McSweeney's, "Pop Song Correspondences," featuring the same clever humor and nostalgia. He has an active Twitter feed with more than 20,000 followers, including celebrities such as Patton Oswalt, Neil Gaiman, and Jim Gaffigan.
Related Posts: