Press Releases
Not Dead Yet by Phil Collins
The Memoir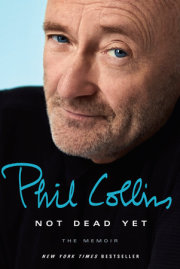 Phil Collins
Imprint: Crown Archetype
On sale: October 25, 2016
Price: $28.00
Pages: 384
ISBN: 9781101907474
Contact:
Ellen Folan
212-782-8944
EFolan@penguinrandomhouse.com
"In many respects I've had a dream life. It's certainly a life worth writing about. I've been incredibly lucky, but I've also worked extremely hard. I've collaborated with some of my heroes, written songs that people have liked, and wildly surpassed my initial hope to make a living as a drummer. Throughout, there have been lots of highs and more than a few lows. I'm being completely honest about all of them, embarrassingly so in some cases. Some things might amuse people, some will surprise them. Horrify them, even. And if, ultimately, readers are shocked or disappointed that their 'hero'—or, that bloke who kept popping up in the charts all the time—was human? Well, then this book will have done what I wanted it to do."
—Phil Collins, on writing his memoir
---
Between his time with Genesis and his earthshaking solo career, Phil Collins has lived a life that few people can imagine. As one of only three musicians to sell over 100 million records both in a group and as a solo artist—the other two being Paul McCartney and Michael Jackson—Collins breathes rare air, but he has never lost his talent for crafting songs that touch listeners around the globe.
Now, with the much-anticipated NOT DEAD YET: The Memoir (Crown Archetype; October 25, 2016), Collins is sharing his candid, witty, unvarnished story of the songs and shows, the hits and pans, his marriages and divorces, the ascents to the top of the charts and into the tabloid headlines. This is the story of his epic career, from child actor to one of the most successful songwriters of the pop music era. A drummer since almost before he could walk, Collins received on-the-job training in the seedy, thrilling bars and clubs of 1960s swinging London before finally landing the drum seat in Genesis. Later he would step into the spotlight on vocals after the departure of Peter Gabriel, and compose the songs that would rocket him to international solo fame with the release of Face Value and "In the Air Tonight."
Whether he's recalling jamming with Eric Clapton and Robert Plant, pulling together a big band fronted by Tony Bennett, playing twice at Live Aid, or writing the Oscar-winning music for Disney's smash hit animated film Tarzan, Collins' storytelling gift never wavers. And, of course, he answers the pressing question on everyone's mind: just what does "Sussudio" mean?
Refreshingly forthright and told with more than a dose of humor, NOT DEAD YET will equally charm and enlighten pop culture audiences and die-hard music fans alike.
Related Posts:
You Might Also Like