Press Releases
MY DEAD PARENTS by Anya Yurchyshyn
A Memoir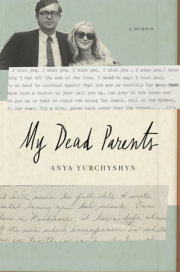 Anya Yurchyshyn
Imprint: Crown
On sale: March 27, 2018
Price: $27.00
Pages: 352
ISBN: 9780553447040
Contact:
Liz Wetzel
212-572-6049
lwetzel@penguinrandomhouse.com
Named one of "The 20 Best New Books to Read in March" by PopSugar
Named one of The Millions' Most Anticipated Books of 2018
Praise for My Dead Parents
"Sharp and searching…The book grapples with the limits of what we can know of each other and is a potent look at the fraught, painful, and complicated relationship between parents and children, and the mysteries — revelatory, difficult — that can and cannot be solved and the ongoing nature of how we come to know the people closest to us, and ourselves." —Boston Globe
"When Anya Yurchyshyn became an orphan at 32, she didn't like her parents very much. Then she stumbled upon a trove of documents that helped her see them in a whole new light… She had only seen her parents as a btter, angry couple, but torrid love letters proved the opposite was true…Yurchyshyn's journey left her with the biggest revelation of all: She finally felt some respect for her parents — and was able to forgive them." —New York Post
"Yurchyshyn's first book, a memoir of her relationship with her parents before and after their deaths, examines the idea that children can never fully understand the depth and dimension of their parents…In this beautifully written, poignant, honest, and unflinching work, the author takes readers with her on her journey through grief and discovery as she finds out – for good or ill – who her parents really were…An inviting debut that is highly recommended to readers with an interest in memoir, narrative nonfiction, and family history."
—Library Journal (starred review)
"This is a fascinating and insightful memoir about how relationships evolve and change, even after death." —Publishers Weekly
"Searching and intense, Yurchyshyn's book is not only a heartfelt examination of parent-child relationships; it is also an unsentimental interrogation of the complex nature of family love. A probing and candid memoir." —Kirkus
"This candid and redemptive memoir shows the fallibility of family and how perception can change everything." —Booklist
"My Dead Parents is a gripping, novelistic page-turner about a couple whose love collapsed into grief and pain, and the daughter who, while sorting through the mess they left behind, found something wholly unexpected. We all wish we could understand who our parents were before we existed, especially if their lives or deaths were shrouded in mystery. In this remarkable, unflinching work of art, Anya Yurchyshyn comes closer than anyone else ever has to achieving that impossible goal."  —EMILY GOULD, author of Friendship
"In the heartwrenching My Dead Parents, Anya Yurchyshyn has reckoned with the most fundamental of human relationships — husband and wife, parent and child — and in so doing forces us to reconsider our own personal narratives of family. Beautifully told, this is a story that will stay with you long after you turn the final page." —DOREE SHAFRIR, author of Startup
"I miss you. I miss you. I miss you. I miss you. I miss you. I miss you." These are George's words in a love letter to his beloved fiancée, Anita. "I'll never be able to write what loving you has meant," Anita responds. As author Anya Yurchyshyn excavates the couple's lives from their belongings—a museum composed of tokens of their love and talismans of their international adventures—she becomes spellbound by a brilliant and optimistic young pair so devoted to each other that their love transcends distance and familial objection. Anita and George, vulnerable and romantic, are strangers to Anya. They are also her parents.
My Dead Parents (Crown; 3/27/18) takes readers on a heartbreaking and provocative journey of a young woman struggling to love Anita and George not as her parents, but simply as people. Anya's mother was a volatile alcoholic, and her father was an emotionally abusive disciplinarian. By the time Anya discovers their love letters and photographs, remnants of an entirely different universe rather than mementos from an earlier era, they have both died. Plagued with a lack of grief that she equates with a lack of love, Anya endeavors to replace her hostile memories with her new discoveries. With the ferocious courage to reopen the most painful wounds, Anya cleans out her parents' Boston town house as a final goodbye and delves deep in her investigation of what it means to love those who hurt us most.
Anya's journey to find what was hidden in everything her parents left behind takes her to far corners of Europe to seek answers from relatives and old friends. She grieves alongside her parents as their firstborn son, Yuri, succumbs to pneumonia, struggles to understand how her mother chose alcohol over her own daughters, and uncovers the sinister circumstances surrounding her father's death. Anya reads the story of her parents' lives as if she is not familiar with the tragic ending, and questions how our parents' stories define, and fail to define, our own lives. At what point did the intimate electricity of her parents' early courtship collapse into the selfish, distant marriage Anya knew? Was believing that they had never been in love better than the alternative—that a profound love was lost?
My Dead Parents shifts deftly between Anya's youth and present exploration, inviting a poignant examination that is at once achingly personal and astoundingly universal. As she makes sense of both her parents' lives and her own, she explores what it means to be our parents' children, the inheritances we are bound to and those we can leave behind, and the costs of loss and love.
About the Author: Anya Yurchyshyn's writing has appeared in Esquire, Granta, N+1, and Noon and was included in The Best Small Fictions 2015. She received her MFA from Columbia University.
Related Posts:
You Might Also Like