Press Releases
Dataclysm: Love, Sex, Race, and Identity—What Our Online Lives Tell Us About Our Offline Selves by Christian Rudder
An audacious and irreverent investigation of human behavior by OkCupid cofounder Christian Rudder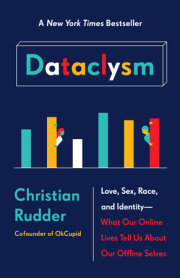 Christian Rudder
Imprint: Broadway Books
On sale: September 8, 2015
Price: $16.00
Pages: 320
ISBN: 9780385347396
Contact:
Sarah Breivogel
212-572-2722
sbreivogel@penguinrandomhouse.com
Select Accolades & Praise for DATACLYSM:
An NPR Best Book of 2014
A Bloomberg Best Book of 2014
A Brain Pickings Best Science Book of 2014
A Globe and Mail Best Book of 2014
One of Hudson Booksellers' Five Best Business Books of 2014
Goodreads Semifinalist for Best Nonfiction Book of the Year
Finalist for the Los Angeles Times Book Prize

"Most data-hyping books are vapor and slogans. This one has the real stuff: actual data and actual analysis taking place on the page. That's something to be praised, loudly and at length. Praiseworthy, too, is Rudder's writing, which is consistently zingy and mercifully free of Silicon Valley business gabble."
—Jordan Ellenberg, Washington Post
"As a researcher, Mr. Rudder clearly possesses the statistical acumen to answer the questions he has posed so well. As a writer, he keeps the book moving while fully exploring each topic, revealing his graphs and charts with both explanatory and narrative skill. . . . He shows you, in short, how to think
about data." —Wall Street Journal
"[Rudder] doesn't wring or clap his hands over the Big Data phenomenon (see N.S.A., Google ads, that sneaky Fitbit) so much as plunge them into Big Data and attempt to pull strange creatures from the
murky depths." —The New Yorker
"There's another side of Big Data you haven't seen—not the one that promised to use our digital world to our advantage to optimize, monetize, or systematize every last part our lives. It's the Big Data that rears its ugly head and tells us what we don't want to know. And that, as Christian Rudder demonstrates . . . is perhaps an equally worthwhile pursuit." —TIME
"Fascinating, funny, and occasionally howl-inducing . . . [Rudder] is a quant with soul, and we're
lucky to have him." —Elle
It's no surprise that more and more people are taking to the Internet each day, sharing their accomplishments and engagements, tweeting about their pet peeves, offering knee-jerk reactions to celebrity breakups and breaking news stories alike, posting vacation photos on Instagram, and recipes on Pinterest. Seventy percent of the country uses Facebook each month—50 percent of Americans under 35 check it first thing every morning. As of 2015, people have tweeted more words than there are in every book ever printed. A third of all marriages in the United States now begin online—meaning one in three children in the class of 2032 will be the indirect result of an algorithm! Quite clearly, social media is about more than just sharing information; it's become essential to the fabric of our society. The photos, the updates, the likes, the tweets: we already know that companies are using all this data to hire us, fire us, and sell us diapers. We already know that the government uses this data to pry. What we don't know is the third side of the story.
In DATACLYSM: Love, Sex, Race, and Identity—What Our Online Lives Tell Us About Our Offline Selves (Broadway Books; on sale September 8, 2015),adaring and visually arresting book filled with charts, graphs, and photos, OkCupid cofounder Christian Rudderputs our personal information to a new use: helping us understand human nature. Because we live so much of our lives online, digital data can show how we fight, how we love, how we age, how we change, and what we really want.
There have been a lot of books and stories on "Big Data"—what it is, how it's intruding on our lives, and invading our privacy. What sets DATACLYSM apart is that, while it does analyze the largest dataset assembled by any private individual (drawn from Twitter, Facebook, Reddit, OkCupid, and many other sites), the book's main concern is not necessarily in the numbers themselves, but in what those numbers say about the people behind them. Rudder examines a range of questions: How racist are we? Has tweeting made us stupider? How can Facebook "likes" predict a person's sexual orientation or intelligence? How can the number of mutual friends a couple has predict the stability of your relationship? He charts the rise and fall of America's most reviled word through Google Search, and he examines the new dynamics of collaborative rage on Twitter. He shows how people express themselves, both alone and in public, and he grapples with the challenge of maintaining privacy in a world where any of these explorations are possible. Philosophers, psychologists, gene hunters, and neuroscientists have tried to explain our flaws and foibles. Rudder shows that today, a powerful new approach is possible, one that reveals how we actually behave when we think no one's looking. And he does this all with a style that is smart, funny, and irreverent—think Chuck Klosterman meets Nate Silver.
There is a real revolution taking place in the study of human behavior and Rudder is on the front lines. In his outrageous, illuminating, provocative, and visually fascinating book, he pulls back the curtain to show how data can help us understand what makes us tick. For anyone who ever wanted to know who we really are and how we really behave when we think no one's looking, DATACLYSM holds the key.
ABOUT THE AUTHOR: Christian Rudder is a cofounder and former president of the dating site OkCupid, where he authored the popular OkTrends blog. He graduated from Harvard in 1998 with a degree in math and later served as creative director for SparkNotes. He has appeared on NBC's Dateline,ABC's Good Morning America, PBS NewsHour, MSNBC,Big Think,and NPR's All Things Considered, Weekend All Things Considered, and The Takeaway, and his work has been written about in the New York Times and The New Yorker, among other outlets.
He lives in Brooklyn with his wife and daughter.
Related Posts: