Press Releases
DARK MATTER by Blake Crouch
A Novel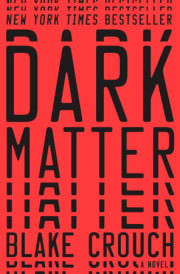 Blake Crouch
Imprint: Crown
On sale: July 26, 2016
Price: $26.99
Pages: 352
ISBN: 9781101904220
Contact:
Dyana Messina
(212) 572-2098
dmessina@penguinrandomhouse.com
What if the person living your life wasn't you?
Advance Praise for DARK MATTER
* A Barnes & Noble Discover Great New Writers Selection *
*An Indie Next Pick *
* An Amazon Best of the Month Selection *
* The July 2016 LibraryReads Favorite Read *
* A Goodreads Best Books of the Month Selection *
"A contender in the race to become the world's biggest thriller of 2016." —Wall Street Journal
 "A mind-blowing sci-fi/suspense/love story mash-up." —Entertainment Weekly
"A fast-paced thriller." —io9
"[An] ingenious thriller . . . With its mind-bending premise involving quantum superposition and the nature of being, a head-spinning plot that's dialogue-driven and adrenaline-fueled, and a gut-wrenching climax that gave me goose bumps, Dark Matter is a dazzling book for summer." —Minneapolis Star Tribune
 "This year's smart summer sci-fi thriller." —Chicago Reader
"Crouch keeps the pace swift and the twists exciting. Readers who liked his Wayward Pines trilogy will probably devour this speculative thriller in one sitting; also offer this one to those who enjoy roller-coaster reads in the vein of Harlan Coban." —Booklist, starred review
"Excellent characterization and well-crafted tension . . . the rousing and heartfelt ending will leave readers cheering." —Publishers Weekly
"Suspenseful, frightening, and sometimes poignant." —Kirkus Reviews
"An irresistible read." —Library Journal
---
His thrillers have sold more than two million copies, been published in thirty-five countries, and even been adapted into a prime-time network TV series.
But, odds are, you haven't heard the name Blake Crouch before.
Crouch's under-the-radar success story spans a decade and fourteen published novels (not to mention numerous novellas and short stories). After starting his career with a traditional publisher, Crouch moved to self-publishing in 2011 with his novel Run, which quickly found a devoted audience. A year later, he joined forces with Amazon's newly launched Thomas & Mercer imprint to publish Pines, the first book in what would become the enormously successful Wayward Pines trilogy. In the years since then, Pines has sold more than a million copies and reached the top of Amazon's Kindle bestseller list several times. The Wayward Pines trilogy was adapted into the FOX-TV series of the same name, directed by M. Night Shyamalan and starring Matt Dillon, Terrence Howard, Melissa Leo, and Juliette Lewis, and was the number one broadcast scripted series of the summer of 2015.
An idea had long been percolating in Crouch's mind, however—a new novel that again featured his signature mix of speculative fiction and thriller, yet was more ambitious and larger in scope than anything he'd attempted before.
That idea would become DARK MATTER, a novel Joseph Finder describes as "the kind of book the word thriller was coined for—a shooting star through multiple genres, posing fundamental questions about identity and reality before revealing itself as, at its core, a love story. Smart, fast, powerful, and ultimately touching" and which Sony preempted the film rights to in a major deal, with Crouch writing the screenplay. Seeking an opportunity to deliver this far-reaching novel to more readers in all formats, Crouch and Crown are thrilled to partner together to bring DARK MATTER to bookstore shelves on July 26, 2016.
DARK MATTER tells the story of Jason Dessen. A brilliant physicist, Dessen has settled into a comfortable life in Chicago with his wife, Daniela, and their teenage son, Charlie. Jason is happy with his position teaching at the local university, but he does sometimes wonder what could have been if he had continued to pursue the research he began early on in his career. It's that thought that's circulating through his mind as Jason walks home late one night—and just before his world abruptly comes to a halt. A man wearing a mask is in front of him, pointing a gun and demanding Jason get into his car. He's taken to an abandoned warehouse, knocked unconscious, and awakens in a world where his life seems radically different from the one he knew. In this place, Jason's never been married. He's never had children. His work has been his life—and, as Jason will learn, he's achieved something he never even dreamed possible. But how did he get here? What happened to his old life? Can he find his way back to the wife and son who've been taken from him?  His search for answers leads him on a journey far stranger than anything he could have imagined—and puts him in the crosshairs of a seemingly unbeatable foe.
Grounded in real scientific theory and principles that echo the high-concept novels of Michael Crichton and films such as Inception, DARK MATTER is at once a masterful work of science fiction, an expertly paced and propulsive thriller, and a deeply human story with love, family, and the notion of "the path not taken" at its heart. The Wall Street Journal has named it a "contender in the race to become the world's biggest thriller of 2016," and with DARK MATTER, Blake Crouch is poised to emerge as one of the most talented authors writing today.
###
About the Author
Blake Crouch is a bestselling novelist and screenwriter. His international-bestselling Wayward Pines trilogy was adapted into a television series for FOX, and he is the co-creator of the TNT show Good Behavior, based on his Letty Dobesh novellas. He has written over a dozen novels that have been translated into more than thirty languages, and his books have sold over two million copies. Crouch lives in Colorado with his family.
Related Posts:
You Might Also Like