Press Releases
Danielle Walker's Eat What You Love
Everyday Comfort Food You Crave; Gluten-Free, Dairy-Free, and Paleo Recipes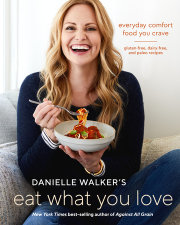 Danielle Walker
Imprint: Ten Speed Press
On sale: December 4, 2018
Price: $35.00
Pages: 336
ISBN: 9781607749448
Contact:
Tammy Blake
212.572.2542
TBlake@prh.com
PRAISE FOR DANIELLE WALKER'S EAT WHAT YOU LOVE
"Danielle Walker offers a new classic filled with expert tips and recipes that achieve glory while being entirely grain-free and paleo … nothing feels like it's missing from these tried-and-true recipes."
—Daphne Oz

"Danielle Walker's new collection of special-occasion recipes is a treasure trove for anyone who enjoys beautiful food."
—Ree Drummond
Beloved food blogger and New York Times bestselling author Danielle Walker is back with DANIELLE WALKER'S EAT WHAT YOU LOVE: Everyday Comfort Food You Crave; Gluten-Free, Dairy-Free, and Paleo Recipes (Ten Speed Press; On Sale December 4, 2018; $35.00; Hardcover), 125 new recipes for comforting weeknight meals. This is the food people want to eat every day, made healthful and delicious with Danielle's proven techniques for removing allergens without sacrificing flavor.
In EAT WHAT YOU LOVE, Danielle proves that maintaining a diet that is egg-, tree-nut-, and nightshade-free does not mean sacrificing the joys of everyday comfort foods. Besides designations for these sensitivities and allergens, Danielle also incorporates designations for Specific Carbohydrate Diet (SCD) and Gut and Psychology Syndrome (GAPS), restrictions she has learned to navigate in her own kitchen over the years due to autoimmune disease.
Along with four weeks of meal plans featuring hearty dishes to start the day, on-the-go items for lunch, satisfying salads and sides, and healthy re-creations of childhood classics, Danielle gives readers convenient grocery lists, dozens of sheet-pan suppers and one-pot dishes, and an entire chapter devoted to make-ahead and freezer-friendly meals—all bursting to life in 150 full-color photos. As a mother of three, Danielle knows how to get dinner (and breakfast and lunch) on the table quickly and easily, and showcases her most satisfying recipes, including Buffalo-Stuffed Sweet Potatoes, Chicken Parmesan with Roasted Spaghetti Squash, and Banana-Chocolate-Hazelnut French Toast. EAT WHAT YOU LOVE reminds readers that although dietary restrictions are part of their lives or their family's lives does not mean eliminating quintessential meals like fried chicken, sloppy Joes, shrimp and grits, chicken potpie, and lasagna … not to mention sweets and treats.
This collection of essential, allergen-free recipes will become the most-used cookbook on your shelf. Following a grain-free and paleo diet just got a little easier—and a lot more delicious!
# # #
About the Author
Danielle Walker is the beloved author of three New York Times bestselling cookbooks—Against All Grain, Meals Made Simple, and Celebrations—and the voice behind one of the most popular grain-free blogs on the Internet, againstallgrain.com. After being diagnosed with an autoimmune disease and suffering for many years, Danielle found health through dietary changes. She has become a beacon of hope in the autoimmune world, and has been a leader in the paleo and gluten-free movement for nearly ten years. Danielle has appeared on Today, The Doctors, Fox News, Access Hollywood, Hallmark's Home & Family, and many other syndicated shows. Her work has been featured in People, O, The Oprah Magazine, USA Today, Shape, Women's Health, Parents, and Fitness, among other publications, and she is a frequent contributor to Today.com.
Related Posts:
You Might Also Like