Press Releases
CUTE EMERGENCY is a collection of adorable photos of animals doing cute things
A spin-off of the popular Twitter account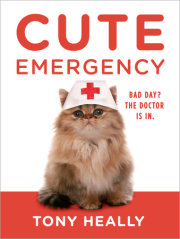 Tony Heally
Imprint: Three Rivers Press
On sale: October 6, 2015
Price: $15.00
Pages: 176
ISBN: 9781101904626
Contact:
Allison Judd
212-782-9164
ajudd@penguinrandomhouse.com
Tony Heally struck Internet gold when he created the CUTE EMERGENCY Twitter account dedicated exclusively to finding and sharing the most adorable animal photos on the planet. His 2 million followers can attest nothing turns a day around better than a photo of puppy wearing a goofy hat or a tiny hedgehog in a teacup. Now, Heally has chosen the cutest photos submitted by fans in conjunction with a plethora of new photos to bring us CUTE EMERGENCY (Three Rivers Press, trade paperback original, on sale October 6, 2015), the book.
CUTE EMERGENCY is a collection of adorable photos of animals doing endearing things—from snuggling to swimming to hiding in silly places. It's the perfect pick-me-up for any bad day! Puppies on surfboards, sleeping piglets, and kittens in flowerpots are just a few of the lovable creatures you'll find in these pages. Get your recommended daily dose of adorableness and let furry creatures come to your rescue!
When your bad day calls for more than just a hug, CUTE EMERGENCY is the quick fix for putting a smile back on your face.
###
About the Author:
TONY HEALLY is the creator of @CuteEmergency as well as of other popular animal-related Twitter accounts, such as @EmrgencyKittens and @OhMyCorgi. Wanting to start a Twitter account to cheer people up, he found that Tweeting about animals was the perfect idea. Since then, @CuteEmergency has made more than 1.8 million people smile.
Related Posts: