Press Releases
CURE: A Journey into the Science of Mind Over Body by Jo Marchant
A rigorous, deeply reported look at the new science behind the mind's extraordinary ability to heal the body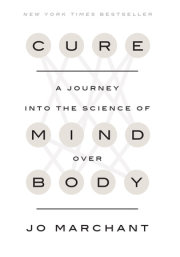 Jo Marchant
Imprint: Crown
On sale: 1/19/16
Price: $26.00
Pages: 320
ISBN: 9780385348157
Contact:
Sarah Grimm
212-782-8637
sgrimm@penguinrandomhouse.com
Praise for CURE: 
"Marchant explores the possibilities of psychology-based approaches to improving physical well-bring in this open-minded, evidence-based account…a powerful and critically needed conceptual bridge for those who are frustrated with pseudoscientific explanations of alternative therapies but intrigued by the mind's potential power to both cause and treat chronic, stress-related conditions."
—Publishers Weekly (starred review)
"A balanced, informative review of a controversial subject."
—Kirkus Reviews
"Cure represents a journey in the best sense of the word: a vivid, compassionate, generous exploration of the role of the human mind in both health and illness. Drawing on her training as a scientist and a science writer, Marchant meticulously investigates both promising and improbable theories of the mind's ability to heal the body. The result is to illuminate a fascinating approach to medicine, full of human detail, integrity, and, ultimately, hope."
—Deborah Blum, author of The Poisoner's Handbook and Love at Goon Park
"This is popular science writing at its very best. Cure beautifully describes the cutting-edge research going on in the fascinating and, until now, often unexplored area of mind-body medicine. I would recommend this book to anybody who has a mind and a body."
—Henry Marsh, author of Do No Harm: Stories of Life, Death, and Brain Surgery 
_______________________________________________________________________________________________________
Homeopathy, acupuncture, Reiki—advocates of alternative treatments such as these have long been engaged in a heated dispute with scientists. While scientists argue any positive effects of these alternative methods are purely imagined—and quickly dismiss results as simply placebo effects—proponents of alternative medicine refuse to cast aside therapies that have helped them in ways traditional medicine has not. In CURE: A Journey into the Science of Mind Over Body (Crown; January 19, 2016), award-winning science writer Jo Marchant argues that both camps are missing a vital piece of the mind-body puzzle—and creating a dangerous rift in how we approach medicine.
Marchant, who holds a PhD in genetics and medical microbiology, has written on everything from the future of genetic engineering to underwater archaeology for publications including
New Scientist, Nature, Smithsonian, and The Guardian, and has been shortlisted for the UK's prestigious Royal Society Prize for her previous book Decoding the Heavens. In CURE, which grew from her much lauded New Scientist feature, deemed "intensely interesting" by Maria Popova, Marchant turns her infectious curiosity to this important medical debate.
When "fake" treatments such as placebo pills are administered to patients and their symptoms improve, doctors and scientists dismiss the effects. After all, if the treatment is fake, so too must be the results. But as Marchant explains, serious scientists from a range of fields have been uncovering evidence that our mind is much more powerful than it is often given credit for. We now have scientific, medical evidence that thoughts, emotions, and beliefs can actually ease pain, heal wounds, fend off infection and heart disease, and even slow the progression of AIDS and some cancers—though not in the way New Age gurus and healers claim. Expecting to feel better after taking a fake pill or receiving an alternative treatment, for example, doesn't just make you think you feel better, but it actually creates measureable, physical effects, such as a release of endorphins, that help make you better. Some 34% of adults in the U.S. use complementary or alternative medicine (62%, if prayer is included). By dismissing the very real effects that these treatments can have, scientists and doctors alienate patients who feel they benefit, leaving them open to erroneous and harmful rationales based on pseudoscience.
Traveling the world to meet the physicians, patients, and researchers working to resolve this detrimental gap between medicine and alternative therapy, Marchant offers a fascinating portrait of the mind's incredible ability to heal the body, exploring its impact on treatments for conditions from Parkinson's to autism to irritable bowel syndrome to ADHD. Her utterly engrossing exploration takes us from a lab 3,500 meters above sea level in the Alps, where she meets with one of the pioneers of placebo research who conducts experiments related to altitude sickness; to a Minnesota woman whose constant pain following a spinal fracture seemed to disappear after she received a "fake" surgery; to the University of Washington's experimental pain lab, where she journeys through a virtual ice canyon called "Snow World" that has been proven to reduce pain.
Drawing on the very latest research, CURE reclaims the science of mind from the grasps of pseudoscience, also laying out its limitations and explaining how we can make use of the findings in our own lives.
ABOUT THE AUTHOR:
JO MARCHANT is the author of Decoding the Heavens, shortlisted for the Royal Society Prize. She has a PhD in genetics and medical microbiology and has written on everything from the future of genetic engineering to underwater archaeology for New Scientist, Nature, The Guardian, and Smithsonian. She has appeared on BBC Radio, CNN, and National Geographic. She lives in London.
Related Posts:
You Might Also Like