Press Releases
Crown presents a beautiful new anniversary edition of Fiddler on the Roof by Joseph Stein
Full text and lyrics from the original production of the most beloved musical of the 20th century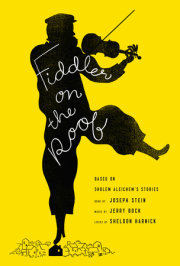 Joseph Stein
Imprint: Crown Publishers
On sale: September 16, 2014
Price: $18.00
Pages: 112
ISBN: 9780553418972
Contact:
Abigail Murdy
212-572-2247
amurdy@randomhouse.com
PRAISE FOR FIDDLER ON THE ROOF
"If you were a rich man, you couldn't buy a better show." —New York Times
"The characters in Fiddler on the Roof find joy and humor during one of the most tragic social uprisings in the history of the modern world." —Washington Post
"Sentimental in a theatrical way, romantic in the old-fashioned way, nostalgic of immigration days, affirmative of human decency, loyalty, bravery and folk humor." —Variety
"Fiddler on the Roof is like your grandmother's house: a place to renew old values and get your soul scrubbed out. If you're lucky enough to have it still, be wise enough to visit it often." —New York Post
This fall marks the 50th anniversary of a cultural landmark, the original Broadway premiere of FIDDLER ON THE ROOF, which ran for nearly eight years, setting records with 3,242 performances. The production won nine Tony awards, including Best Musical, Score, Book, Direction, and Choreography. It remains the sixteenth longest-running show in Broadway history, and the popularity of its story and score remains as strong as ever. Even now the musical is being performed in high schools, community centers, and professional theaters across the globe. FIDDLER ON THE ROOF will return to Broadway with a revival production directed by Bartlett Sher opening in 2015, the concept and choreography based on the original Jerome Robbins production.
Adapted from the tales of Yiddish writer Sholem Aleichem and set in Tsarist Russia in 1905, FIDDLER ON THE ROOF is an indelible tale of family, tradition, wit, and sorrow told through the many trials of Tevye, a Jewish Everyman. The poor, hard-working, and witty milkman lives in the fictional village Anatevka, clinging firmly to his faith and traditions, dreaming of riches he'll never see. Tevye believes that he'll need a matchmaker to marry off his three oldest daughters, butTzeitel, Hodel, and Chava soon force their more modern ideas upon him, each daughter pursuing romance in her own different and unconventional way. Tevye's celebrated journey to maintain his family and faith amidst a rapidly changing world makes for a timelessly profound read—the very definition of a classic.
This new edition from Crown will serve as a collector's item, honoring the brilliant history of FIDDLER ON THE ROOF (Crown; On Sale September 16, 2014) and commemorating its illustrious half-century reign, on Broadway and in the hearts of those who experience it today.
ABOUT THE CREATORS
JOSEPH STEIN (1912–2010) was a playwright best known for such musicals as Fiddler on the Roof and Zorba. Born to Jewish immigrants, Stein grew up in the Bronx. He began his career as a psychiatric social worker, while writing comedy on the side. A chance encounter with Zero Mostel led him to writing for radio personalities, including Hildegarde and Jackie Gleason. He later worked in TV when he joined the writing team of Your Show of Shows, which included Woody Allen, Mel Brooks, and Carl Reiner. He was honored with the Oscar Hammerstein Award for Lifetime Achievement in Musical Theater, and in 2008 was inducted into the Theater Hall of Fame.
JERRY BOCK (1928–2010) and SHELDON HARNICK (b. 1924) were a renowned composer and lyricist team who received the Tony Award for Best Musical and the Pulitzer Prize for Drama for their 1959 musical Fiorello! They also won Tony Awards for Best Composer and Lyricist for Fiddler on the Roof and Best Original Score for The Rothschilds. Both were honored with the Oscar Hammerstein Award for Lifetime Achievement in Theatre in 2009.
You Might Also Like