Press Releases
From the creator of Sunday Suppers, the wildly popular Brooklyn-based food community and blog, comes a gorgeous menu-based cookbook celebrating the magic of communal meals shared with family and friends
Sunday Suppers: Recipes + Gatherings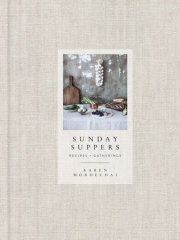 Karen Mordechai
Imprint: Clarkson Potter
On sale: October 14, 2014
Price: $32.50
Pages: 256
ISBN: 9780385345262
Contact:
Anna Mintz
212-572-6186
amintz@penguinrandomhouse.com
Karen Mordechai was one of the first to redefine "entertaining" as "gathering," changing the experience from stressful to intimate with a focus on bringing people together to connect over delicious food and in an inspiring environment. In 2009, she created the now iconic Sunday Suppers, a cooking community and food website based in Brooklyn, that celebrates the magic of gatherings. Sunday Suppers allows friends and strangers alike to congregate and cook together, and experience the world's oldest act of community: sharing a meal.
Karen's lessons in cooking, styling, menu planning, and photography quickly gained her a cult following, and her gift for creating beautiful dining environments and bringing back the nostalgia of family meals and early suppers with friends is beautifully reflected in Sunday Suppers: Recipes + Gatherings (Clarkson Potter/Publishers; October 14, 2014; Hardcover; $32.50).
Sunday Suppers features menus of 100 recipes centered around get-togethers: a beach lunch, an urban picnic, a dinner with friends in upstate New York. Spanning all occasions and all times of day (not just supper!), each gathering covers all aspects of the meal, from setting a beautiful scene, to creating a thoughtful menu, and stunning, seasonally driven recipes. Some sample menus in the book include:
Winter Brunch: Homemade Everything Bagels; Whipped Cream Cheese; Tea and Ginger-Cured Sea Bass; Warm Citrus Salad; Fig Tart with Honey
Birthdays for Little Ones: Beef and Green Olive Empanadas; Black Beans and Rice; Mixed Root Vegetable Chips; Ricotta Fritters with Grape Jam; Chocolate Cake with White Icing
Whiskey Feast: Whiskey-Glazed Ribs; Chili, Texas Style; Thick-Cut Fries with Pink Peppercorn Aioli; Winter Slaw; Cucumber Dill Pickles; Date Cake with Toffee Sauce=
Autumn Dinner: Corned Beef with Root Vegetables; Braised Purple Cabbage; Sesame and Salt Pretzels with Brown Beer Mustard; Apple and Olive Oil Cake
Holiday: Truffled Turkey with White Wine Gravy; Wild Mushroom and Brioche Stuffing; Cranberry-Apple Relish; Buttered Brussels Leaves; Mashed Potatoes; Spiced Pumpkin Crème Brûlée
Karen is already known and loved among editors, stylists, and food photographers for her easy preparations and understated, elegant styling.  But now, with Sunday Suppers, anyone can enjoy Karen's achingly beautiful photography and partake in delicious meals that draw people together in community as they circle around the table.
                                                #  #  #
ABOUT THE AUTHOR:
KAREN MORDECHAI,a photographer and stylist, is the founder of Sunday Suppers, a Brooklyn-based cooking series and blog that has won accolades such as a 2013 Food and Wine Digital Award, top food blog by Saveur, and #6 in Babble.com's Top 50 Design Blogs. Additionally, Karen has been a culinary/photo judge at Leite Culinaria's Food Photography Contest, a culinary ambassador for Fisher & Paykel and the DCS line of appliances, and an official partner with West Elm and Williams-Sonoma. Karen's work has appeared in the New York Times, Remodelista, Martha Stewart Living, Food + Wine, and more.
Related Posts:
You Might Also Like