Press Releases
Creating HDR Photos: The Complete Guide to High Dynamic Range Photography by Harold Davis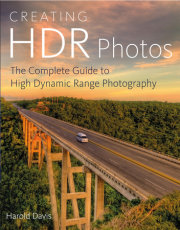 Harold Davis
Imprint: Amphoto Books
On sale: July 24, 2012
Price: $29.99
Pages: 192
ISBN: 9780823085866
Contact:
Kim Small
212-572-6067
ksmall@randomhouse.com
Since the days of the first photographs, artists have used various techniques to extend the range of lights and darks in their photos. Photographic masters such as Ansel Adams and Edward Weston spent countless hours burning and dodging their prints to create images with extended dynamic range. With the advent of digital photography, new horizons in extending dynamic range are possible. HDR techniques now make it easy to extend the dynamic range of an image well beyond the capability of the human eye.
CREATING HDR PHOTOS by Harold Davis (Amphoto Books, $29.99, on sale July 24, 2012) covers the complete HDR workflow, from choosing the subjects that work best for HDR through processing RAW files to unlock the dynamic power of HDR. Readers find out how to photograph multiple exposures and blend them into a single HDR image using various software programs. This is the first HDR book that shows how to process a RAW image in order to extend dynamic range (Multi-RAW processing), as well as how to create hand-blended HDR images from multiple exposures (Hand-HDR). Best of all, readers learn how to control the style of their HDR images, from subtle to hyper-real, using a range of photographic and post-processing techniques. CREATING HDR PHOTOS is accessible and easy to understand so that photographers at all skill levels will find it a valuable resource. Packed with stunning image examples, CREATING HDR PHOTOS brings this essential digital technique within every photographer's grasp.
About the Author:
HAROLD DAVIS is an award-winning professional photographer and the author of many bestselling books on photography and image processing. His images are widely collected and commissioned, and his popular photo workshops are often sold out. Learn more about Harold and his photography at www.photoblog2.com.
Related Posts:
You Might Also Like