Press Releases
Cravings: Hungry for More by Chrissy Teigen with Adeena Sussman
Hungry for More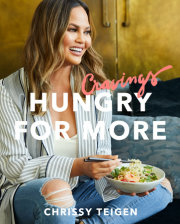 Chrissy Teigen with Adeena Sussman
Imprint: Clarkson Potter
On sale: September 18, 2018
Price: $29.99
Pages: 256
ISBN: 9781524759728
Contact:
Jana Branson
212-572-2210
jbranson@penguinrandomhouse.com
Chrissy Teigen's first cookbook, Cravings, was an extraordinary success, debuting on the New York Times bestseller list and instantly earning a spot as a go-to resource for home cooks and avid fans alike. Now, with the highly anticipated release of her second book, CRAVINGS: HUNGRY FOR MORE (Clarkson Potter | September 18, 2018 | $29.99 | Hardcover), Teigen is back to take us even deeper into her kitchen— and life—than ever before.
In CRAVINGS: HUNGRY FOR MORE, Chrissy shares another indispensable collection of recipes, this time revealing more stories about her evolution as a home cook, her travels, and the emotional healing cooking has provided her as a new parent. The real, raw Chrissy and signature wit we all love to follow on Instagram leaps off every page—and rest assured, there's plenty of John, Luna, and even Miles as a bun in the oven. The dishes range from Chrissy's go-to nostalgic favorites to her signature comfort foods with a twist to her mom Pepper's classic Thai dishes to indulgent crowd pleasers that everyone—even her bulldogs—gobbles up off the table.
Chapters and sample recipes include:
BREAKFAST & BRUNCH: Blueberry Cream Cheese Pancakes; Everything Bagel Cream Cheese Breakfast Bake; Croissant Bread Pudding Ham Cups
SOUPS: Parmesan Minestrone with Chili Mayo Toasts; Bacony Clam Chowder; Carrot Coconut Soup
SALADS: Cool Ranch Taco Salad; Roasted Butternut Squash & Pomegranate Salad with Garlicky Honey-Dijon Dressing; Tangy Herb-Sesame Slaw
SANDWICHES: Grilled Pork Bánh Mì Sandwiches with Quick Pickles; Crispy Bacon & Sweet Pickle Patty Melts; Grilled Chicken Toasts with Mashed Peas & Ricotta
SNACKS: Crispy Coconut Chicken Tenders with Pineapple-Chili Sauce; Grilled Thai-Glazed Chicken Wings; Chicken Nachos with Avocado Salsa
POTATOES & THEIR FRIENDS: Taters, Shrooms & Peas with Parmesan Cream; Jalapeño-Cheddar Corn Pudding; Kung Pao Roasted Broccoli
THAI MOM: Pad Thai Carbonara (Bacon & Egg Pad Thai Spaghetti); Khao Tod (Crispy Rice Salad) with Fried Eggs; Thai Soy-Garlic Fried Ribs
SUPPER: Sleepytime Stew & Cream Cheese Smashed Potatoes; Chicken & Dumplings; Simple Skillet Broken Lasagna
SWEETS: Soft Pretzels; Instant Mango Sorbet; Two-Faced Cobbler
With more than 100 recipes and 100 playful photographs, Chrissy divulges life lessons, kitchen tips, and all the flavor bombs you can handle. CRAVINGS: HUNGRY FOR MORE will leave us all delighted and inspired—hope you're hungry for more!
ABOUT THE AUTHOR:
CHRISSY TEIGEN is known as many things—cover model, television personality, star of Instagram and Twitter—but her real passion is food. She lives in Los Angeles with her husband, two children, and three dogs.
# # #
CRAVINGS: HUNGRY FOR MORE
Chrissy Teigen with Adeena Sussman
Clarkson Potter/Publishers
September 18, 2018
ISBN 978-1-5247-5972-8 • $29.99 • Hardcover
Related Posts: