Press Releases
Crafters, brides-to-be, and creative families alike can quickly gain the skills to create a garden of gorgeous paper flowers
Paper to Petal: 75 Whimsical Paper Flowers to Craft by Hand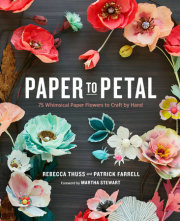 Rebecca Thuss and Patrick Farrell
Imprint: Potter Craft
On sale: August 27, 2013
Price: $24.99
Pages: 256
ISBN: 9780385345057
Contact:
Natasha Martin
212-782-8370
namartin@randomhouse.com
Real flowers may come and go with the seasons, but paper flowers are a possibility anywhere, anytime. From the pages of New York magazine and Martha Stewart Weddings to the Golden Globes and White House state dinners, paper flowers have become the gorgeous, on-trend alternative to the usual bouquet. In PAPER TO PETAL: 75 Whimsical Paper Flowers to Craft by Hand (Potter Craft, $24.99, on sale August 27, 2013), creative duo Rebecca Thuss and Patrick Farrell provide us with a stunning source of inspiration, and teach us how to create handcrafted flowers that are perfectly suited to any type of decorating desire.
Brimming with beautiful photography, PAPER TO PETAL showcases over 180 unique flowers and foliage, with accessible ideas, over-the-top aspirational ones, and everything in between. The flowers are made from a variety of papers—all easily sourced—and can be made even more special by using other materials such as fabric, glitter, and ribbon.
This visual feast of a book begins with a lush gallery of images of the 75 flower projects, including flowers inspired by everything from cheerleading pom-poms to high-flying kites to picturesque sunsets; an autumnal wreath that celebrates the colors of the changing seasons; beautiful floral table decorations; and easy-to-make blooms for the tops of gifts. The gallery is followed by a skills section and thorough step-by-step instructions for all flowers and projects with accompanying templates.
PAPER TO PETAL is a true celebration of creativity and playful whimsy. With Rebecca and Patrick's expert guidance, crafters, brides-to-be, and creative moms alike can quickly gain the skills to create a garden of their own unique interpretations.
About the Authors:
Rebecca Thuss and Patrick Farrell are the husband-and-wife team of THUSS + FARRELL, a photography and design duo who have worked together since 1991. In addition to still-life, portraiture, and travel and lifestyle photography, their work together encompasses a wide variety of creative disciplines, including set design, furniture design, crafting, creative direction, and graphic design. Their clients include Chronicle Books, Landor Associates, Procter & Gamble, Corcoran, Daniel Boulud, Per Se, Random House, Abrams (Stewart, Tabori & Chang), EMG, Martha Stewart Living Omnimedia, Keri Levitt Communications, Bonpoint, and the New York Times. Rebecca and Patrick live in Upstate New York with their daughter, Poet.