Press Releases
Craft cocktails at home using simple and inspiring recipes from Eric Prum and Josh Williams, the creators of the Mason Shaker
Shake: A New Perspective on Cocktails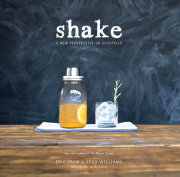 Eric Prum and Josh Williams
Imprint: Clarkson Potter
On sale: July 8, 2014
Price: $25.00
Pages: 168
ISBN: 9780804186735
Contact:
Anna Mintz
212-572-6186
amintz@randomhouse.com
"Shake is a cocktail book that expresses our seasonal and straightforward approach to drinks and entertaining, and reminds us that, above all, mixing cocktails should be fun, simple, and social. Our genuine hope is that this book inspires you to take delicious cocktails out of the bar and into your hands—and helps you do just that."
While cocktail bars have sprouted up just about everywhere in recent years, cocktail, culinary, and design innovators Eric Prum and Josh Williams realized that good drinks still couldn't be found in the one place where they had always mixed them: at home with friends. Enter Shake: A New Perspective on Cocktails (Clarkson Potter/Publishers; $25.00; Trade Paperback; on sale July 8, 2014), an artisanal cocktail book by two best friends and entrepreneurs whose mission is to bring cocktail crafting out of the bar and into the home.
From their Brooklyn workshop where they designed, created, and launched The Mason Shaker, a now-iconic invention that transformed a mason jar into a cocktail shaker, they created Shake. One part instructional recipe book and one part photo journey through their year of cocktail crafting, this book is an expression of their seasonal approach to drinks and entertaining, and delivers the message that mixing cocktails should be simple, social, and, above all, fun.
Organized by season, each recipe is presented visually, in beautiful color photos, as well as with written recipes. Sample recipes include:
WINTER: The Rye Old-Fashioned, A Mid-Winter Marg, The 'Nog
SPRING: The Strawberry Rhubarb Fizz, The Blackberry Fencehopper, The W&P Mint Julep
SUMMER: The Spicy Mezcalita, The Watermelon Daiquiri, The Montauk Mule
FALL: The Rosemary Maple Bourbon Sour, Pickleback Me, The Spiced Rum Old-Fashioned
With simple instructions accompanied by clear photographs of the accoutrements, ingredients, and finished drinks for each recipe, Eric and Josh demystify the cocktail, making Shake a must-have practical guidebook to simple, elegant, and fun drinks to make at home.
#  #  #
ABOUT THE AUTHORS:
ERIC PRUM and JOSH WILLIAMS have been best friends since they were paired as freshman roommates at the University of Virginia. A decade later, they are the founding partners of W&P Design, an innovative food and beverage design company based in Brooklyn, New York, and the creators of the Mason Shaker, a unique mason jar cocktail shaker. They are guest cocktail contributors for marthastewart.com, and have been featured in the New York Times, Martha Stewart, Southern Living, Food & Wine, and on CNN among other media outlets.
You Might Also Like