Press Releases
How to Cook Without a Book, Completely Updated and Revised by Pam Anderson
Recipes and Techniques Every Cook Should Know by Heart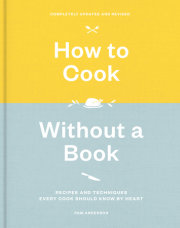 Pam Anderson
Imprint: Clarkson Potter
On sale: August 28 2018
Price: $29.99
Pages: 272
ISBN: 9781524761660
Contact:
Jana Branson
jbranson@penguinrandomhouse.com
How to Cook Without a Book taught home cooks everywhere that by keeping their pantry, fridge, and freezer stocked and relying on a set of internalized techniques and formulas, they could overcome the barriers to weeknight cooking—long recipes and last-minute trips to the store. It has been eighteen years since the blockbuster How to Cook Without a Book was published, and Pam Anderson's method of mastering easy techniques to create simple, delicious meals is even more relevant today.
The new edition of her classic cookbook, How to Cook Without a Book, Completely Updated and Revised: Recipes and Techniques Every Cook Should Know by Heart (Clarkson Potter | August 28, 2018 | $29.99 | Hardcover), remains an innovative, straightforward guide on home cooking basics, with new material that reflects both the contemporary time crunch and the way new generations think about food.
Keeping up with the ever-changing food scene, How to Cook Without a Book, Completely Updated and Revised includes ingredients today's home cooks love, from hearty dark greens to meaty, boneless, skinless chicken thighs, and it features formulas for the kind of dishes we want to make and eat: satisfying bean and grain salads, fun pizzas, and seasonal pasta dishes. The opening chapter—A Little Mise—demonstrates how with virtually no effort you can dramatically reduce your weeknight cooking time. Rather than dirtying multiple dishes, whole meals are made in one pot, one sheet pan, or one skillet.
With 75 new and original full-color photographs, as well as helpful at-a-glance charts that highlight the key points of every technique and a master recipe with several variations, How to Cook Without a Book, Completely Updated and Revised will be the go-to resource for modern home cooks looking to make delicious meals on the fly.

ABOUT THE AUTHOR:
PAM ANDERSON is a New York Times bestselling author of eight cookbooks, including the Julia Child Award–winning The Perfect Recipe, the James Beard–nominated first edition of How to Cook Without a Book and Perfect Recipes for Having People Over, and the IACP-nominated The Perfect Recipe for Losing Weight and Eating Great. Pam was also the former executive editor of Cook's Illustrated magazine, a USA Weekend food columnist, and AARP's official food expert. She currently resides in Connecticut.
HOW TO COOK WITHOUT A BOOK, COMPLETELY UPDATED AND REVISED
Recipes and Techniques Every Cook Should Know by Heart
By Pam Anderson
Clarkson Potter/Publishers
August 28, 2018
ISBN: 9781524761660 • $29.99 • Hardcover
Related Posts: