Press Releases
Cook to Thrive by Natalie Coughlin
Recipes to Fuel Body and Soul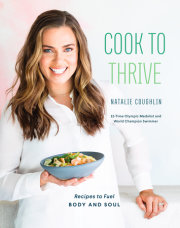 Natalie Coughlin
Imprint: Clarkson Potter
On sale: February 26 2019
Price: $25.00
Pages: 224
ISBN: 9781524762179
Contact:
Jana Branson
jbranson@penguinrandomhouse.com
As one of the most decorated Olympians of all time, Natalie Coughlin knows that when all that exists between winning a gold or a bronze medal are hundredths of a second—every detail matters—especially what you eat. While some elite athletes swear by bland brown rice, grilled chicken, and steamed broccoli, Natalie takes the saying "food is fuel" to a whole new level in her debut cookbook: Cook to Thrive (Clarkson Potter | February 26, 2019 | $25.00 | Hardcover). Offering a blend of personal, comforting recipes inspired by Natalie's Filipino background, dishes from her travels around the world, and twists on nourishing classics, Cook to Thrive offers a sustainable and balanced approach to eating.
Sample chapters and recipes in Cook to Thrive include:
BREAKFAST: Asparagus and Sweet Onion Frittata; Breakfast Fried Rice; Bircher Muesli
SALADS & SOUPS: Zucchini, Calabrian Chile, and Mint Salad; Shredded Brussels Sprouts and Kale Salad with Pomegranate and Cranberries; Restorative Garlic Soup
VEGETABLES: Everything-but-the-Kitchen-Sink Stir-Fry; Zucchini-Carrot Fritters; Wild Mushroom Farrotto
SMOOTHIES, JUICES & SWEETS: Watermelon Slushie; Cherry-Almond Recovery Smoothie; Performance Beet Juice
Natalie's approach in Cook to Thrive is refreshing and appealing to not only athletes, but also to healthy eaters looking to improve their diets without sacrificing entire food groups.
ABOUT THE AUTHOR:
NATALIE COUGHLIN is a world-class swimmer and one of the most decorated US athletes in history, with twelve Olympic medals and twenty World Championship medals, breaking fourteen world records along the way. An avid home cook, she has participated in food competitions on Food Network, Iron Chef America, and CBS's The Chef's Classic. She is the cofounder of Gaderian Wines, a small-batch winery in the Napa Valley, and lives in Northern California.
Related Posts: