Press Releases
Cook like a Pro by Ina Garten
Recipes and Tips for Home Cooks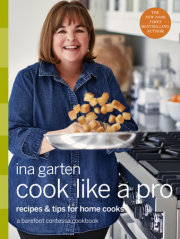 Ina Garten
Imprint: Clarkson Potter
On sale: October 23, 2018
Price: 35.00
Pages: 272
ISBN: 9780804187046
Contact:
Jana Branson
jbranson@penguinrandomhouse.com
America's most trusted and bestselling cookbook author, Ina Garten—the Barefoot Contessa—has taught millions of people how to cook. In her highly anticipated eleventh cookbook, Cook Like a Pro (Clarkson Potter | on sale October 23, 2018| $35.00 | Hardcover), Ina shares brand-new recipes along with a well-earned collection of tips that will help readers cook with confidence no matter their level of experience.
Although Ina is completely self-taught and doesn't consider herself to be a "professional" cook, she has spent decades working with chefs and learning the techniques that set their cooking apart. In Cook Like a Pro, Ina shares dozens of these "pro tips" for prepping (how to properly cut cauliflower without making a mess), cooking (the secrets to making custardy, slow-cooked scrambled eggs and the juiciest fried chicken sandwich), and presenting (showcase your food, not your platter).
As her millions of fans have come to expect from Ina, the recipes in Cook Like a Pro are streamlined, refined, and foolproof; she prides herself on testing and retesting each recipe until it is as straightforward and delicious as possible. Beginner and advanced cooks alike will love the practical advice in Cook Like a Pro that talks them through every detail, as though Ina were right there by their side. Each recipe offers one (or more!) piece of insider insight that makes your cooking a little more vibrant, the flavor a little more elevated, and the presentation irresistible.
Sample chapters and recipes include:
COCKTAILS: Autumn Sangria; Classic Daiquiris, Updated; Sautéed Shishito Peppers; Arrange a Bar Like a Pro
SOUPS & SALADS: Israeli Vegetable Salad; Pork Posole; Measure Like a Pro
DINNER: Chicken Thighs with Creamy Mustard Sauce; Pork Souvlaki with Radish Tzatziki; Is it Done Yet??
VEGETABLES & SIDES: Creamy Blue Cheese Grits; Orange-Roasted Rainbow Carrots; Cut Like a Pro
DESSERT: Raspberry Baked Alaska; Salted Caramel Sundae; Chocolate Pecan Meringue Torte; Bake Like a Pro
BREAKFAST: Lemon Ricotta Pancakes with Figs; Truffled Scrambled Eggs; Shakshuka with Feta; Prep Like a Pro
With a more in-depth look than ever before at the techniques and methods behind Ina's cooking, Cook Like a Pro is the perfect addition to the Barefoot Contessa collection that home cooks will turn to again and again—as Ina says, "You don't have to be a pro to cook like one!"
ABOUT THE AUTHOR:
INA GARTEN is a New York Times bestselling author and the host of the four-time Emmy Award–winning show, Barefoot Contessa, which airs on Food Network. She lives in East Hampton, New York, with her husband, Jeffrey. This is her eleventh book.
Related Posts: