Press Releases
Cook Like a Rock Star by Anne Burrell
125 Recipes, Lessons, and Culinary Secrets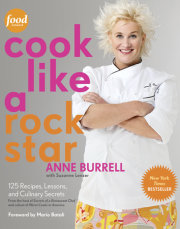 On sale: January 1, 1970
Price: $
ISBN: 9780307886750
Contact:
Anna Mintz
212-572-6186
amintz@randomhouse.com
"[Anne Burrell is] the queen of culinary cool" —Associated Press
COOK LIKE A ROCK STAR
125 Recipes, Lessons, and Culinary Secrets
By Anne Burrell
with Suzanne Lenzer
Foreword by Mario Batali
"I have known and cooked with Anne Burrell for more than fifteen years and have always known that she was ready for prime time.  I cannot remember a dish of food that she ever made that left me anything but purely satisfied… In the absence of a place to pull up a bar stool and taste her creative and lusty dishes, this book steps in to fill the gap."
—Mario Batali, from the Foreword
Anne Burrell believes that food is essential to happiness.  On her hit Food Network shows, Secrets of a Restaurant Chef and Worst Cooks in America, she is known for food that is spirited and infused with bold flavors and passion—or, as she likes to say, food that includes the "sparkle factor." In her debut cookbook, COOK LIKE A ROCK STAR: 125 Recipes, Lessons, and Culinary Secrets (Clarkson Potter/Publishers; October 4, 2011; $27.99; Hardcover), Anne gives home cooks the confidence and support they need to be rock stars in their own homes and with their families while having a blast creating food inspired by Anne's years of experience in restaurant kitchens.
The 125 restaurant-quality recipes in COOK LIKE A ROCK STAR are designed for home cooks, from beginners to experts.  Each recipe is broken down into key parts to make the process of learning and cooking as simple as possible—the way Anne herself does it—and includes easy-to-find ingredients and helpful tips on skills and prepping techniques.
Some recipes featured in the book include:
– PICCOLINI (a.k.a. my little nibbles): Zucchini & Parm Fritters with Spicy Tomato Sauce; Figs Stuffed with Gorgonzola & Walnuts; Polpettini (Yummy Little Meatballs); Grilled Corn, Bacon, & Chili Crostini
– FIRSTS (the introduction): Roasted Beet & Many-Herb Salad; Parmigiano Flan; Grilled Pizzetta with Stracchino, Sausage, Arugula, & Chili Oil; My Big Fat Chicken Soup
– PASTA (my passion): Tagliolini with Arugula-Walnut Sauce; Raviolo al'Uovo (Ricotta-Nestled Egg Yolk); Killer Mac & Cheese with Bacon; Whole Wheat Pappardelle with Roasted Butternut Squash, Broccoli Rabe & Pumpkin Seeds
– SECONDS (the main event): Duck  Breast with Dried Fruit & Vin Santo; Rockin' Porchetta with Fall Veggies; Seared Red Snapper with Sicilian Cauliflower & Parsley Salad; Whole Roasted Fish with Sliced Potatoes, Olives & Herbs
– SIDES (the sparkle factor): Frizzled Brussels Sprouts with Pancetta & Walnuts; Potato, Prosciutto & Fontina Cake; Spice-Roasted Cauliflower & Jerusalem Artichokes; Super Creamy Cheeeeesy Polenta
– DESSERTS (my sweeties!): Goat Cheese Cheesecake with Spiced Nilla Wafer Crust; Mom's Anise Seed Cookies; Apple & Olive Oil Cake with Sautéed Apples & Mascarpone; Hazelnut Cake with Nutella Mousse
With her trademark Anne-isms like big fat finishing oil and recipes that work for cooks of all levels, COOK LIKE A ROCK STAR features the same forthright approach and constant reassurance that Anne is known for on her hit Food Network shows.  Whether she's telling us how to use garlic most effectively ("perfume the oil, remove the garlic, and ditch it—it's fulfilled its garlic destiny!") or reaffirming the most important part of cooking ("at the end of the day the food should taste good!"), the reader will never feel alone at the stove.
In COOK LIKE A ROCK STAR, Anne Burrell's effervescent personality and unmatched vitality is there every step of the way—as teacher, enthusiastic coach, cooking partner, and friend. 
# # #
ABOUT THE AUTHOR:
ANNE BURRELL graduated from the Culinary Institute of America and has worked at some of the top restaurants in New York, including Lidia Bastianich's Felidia and Peter Hoffman's Savoy.  She cooked professionally in Italy, taught at the Institute of Culinary Education, and battled alongside Mario Batali on Iron Chef America. During her tenure as executive chef at Centro Vinoteca, she also oversaw the kitchen of Gusto.  She is the host of her own show, Secrets of a Restaurant Chef, and co-host of the primetime hit Worst Cooks in America, both on the Food Network.
Related Posts:
You Might Also Like