Press Releases
CONVERSATIONS WITH FRIENDS by Sally Rooney
An astonishingly assured debut novel about friendship, sexuality, desire, and love for our modern times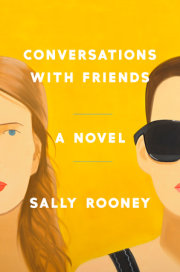 Sally Rooney
Imprint: Hogarth
On sale: July 11, 2017
Price: $26.00
Pages: 320
ISBN: 9780451499059
Contact:
Dyana Messina
(212) 572-2098
dmessina@penguinrandomhouse.com
Advance Praise for CONVERSATIONS WITH FRIENDS
"In this searing, insightful debut, Rooney offers an unapologetic perspective on the vagaries of relationships . . . a treatise on married life, the impact of infidelity, the ramifications of one's actions, and how the person one chooses to be with can impact one's individuality. Throughout, Rooney's descriptive eye lends beauty and veracity to this complex and vivid story."
—Publishers Weekly (starred review)
"Readers who enjoyed Belinda McKeon's Tender and Caitriona Lally's Eggshells will enjoy this exceptional debut."
—Library Journal (starred review) 
"A coming-of-now tale, Rooney's first novel is a smart, sexy, realistic portrayal of a woman finding herself in and out of a well-depicted friendship." —Booklist (starred review) 
"Rooney captures the mood and voice of contemporary women and their interpersonal connections and concerns without being remotely predictable . . . A clever and current book about a complicated woman and her romantic relationships." —Kirkus Reviews
"An astonishing assured debut." —The Bookseller
 "Electrically contemporary . . . [a] tireless, probing and, above all, highly intelligent novel…I can't wait to see what Rooney serves up next." —Sunday Times 
"Hugely enjoyable . . . a very funny, very humanly messy tale of sexual and artistic self-discovery in which almost every page reveals shrewd emotional insight…Caught between laser-eyed irony and heart-melting sincerity, the book is a master class of narrative tone that left me desperate to read whatever Rooney writes next." —Metro (five stars)
---
By the age of twenty-five, Sally Rooney was a well-established figure on the Irish literary scene. With pieces in The Dublin Review, The Stinging Fly, and her first short story featured in Granta's "New Irish Fiction" issue, publishers eagerly responded when her debut novel, Conversations with Friends came to their attention. In a heated, multi-house auction at the London Book Fair, rights to Conversations with Friends would be sold in eleven countries, and on July 11, 2017, Hogarth will bring Rooney's sharply intelligent novel to U.S. readers.
Frances and Bobbi have been inseparable since their teens. Bobbi's exuberance and seemingly infinite self-confidence was always the perfect match to Frances's quietly observant, cool detachment. While lovers at one-time, their relationship has shifted into a deep friendship and they spend these first years of their twenties attending classes and performing Frances's poems at spoken-word events around Dublin. When they are introduced to Melissa, however, things begin to change. A celebrated journalist and photographer, Melissa has taken an interest in the two young women for a piece about their performances. Bobbi and Frances both find themselves attracted to Melissa—Bobbi quickly becomes enamored with the older woman, while Frances finds herself inexplicably drawn to Nick, Melissa's handsome husband. An actor whom most describe as never quite "living up to his potential," Frances struggles with her intensifying attraction and the flirtation that starts to lead into something much deeper. She and Bobbi begin to drift further and further and a family crisis forces Frances to confront the new reality of her life. Faced with new desires, needs, and vulnerabilities, life has upended the certainties she's always clung to—but it will also open her up to a new way of living.
In Conversations with Friends, Rooney has captured the pleasures and dangers of youth in a fiercely perceptive and devastatingly raw, yet wonderfully alive depiction of contemporary life and love.
About the Author: Sally Rooney was born in the west of Ireland in 1991. She studied English at Trinity College, Dublin, and her writing has been featured in The Dublin Review, The Stinging Fly, and Granta.
Related Posts: