Press Releases
Contact High by Vikki Tobak; Foreword by Questlove
A Visual History of Hip-Hop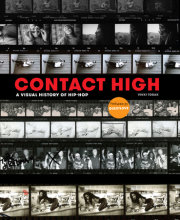 Vikki Tobak
Imprint: Clarkson Potter
On sale: October 16, 2018
Price: $40.00
Pages: 288
ISBN: 9780525573883
Contact:
Erica Gelbard
EGelbard@penguinrandomhouse.com
A collection of photographic essays of hip-hop legends, as told through the contact sheets from their most iconic photo shoots, including essays from Fab 5 Freddy, Young Guru, DJ Premier, RZA, and more
CONTACT HIGH: A Visual History of Hip-Hop (Clarkson Potter | $40 | on sale October 16) by Vikki Tobak and with a foreword by Questlove is an inside look at the work of hip-hop photographers told through their most intimate diaries: their contact sheets. Featuring rare outtakes from over 100 photo shoots alongside interviews and essays from industry legends, this book takes us on a chronological journey from old-school to alternative hip-hop, and from analog to digital photography.
Tobak has curated an extraordinary visual anthology of the most important rap and hip-hop artists. From the last shoots of Tupac Shakur and Biggie Smalls just weeks before their deaths, to Al Pereira's shoot of Queen Latifah on the set of "Fly Girl," to Jerome Albertini's shoot of all the members of Wu-Tang Clan, CONTACT HIGH features rare photos of iconic artists, some of which have never been shared by the photographers before.
Some of the A-list artists in the collection include:
Tupac Shakur
Biggie Smalls
A Tribe Called Quest
Nas
Wu-Tang Clan
W.A
Kanye West
50 Cent
Jay-Z
Nicki Minaj
Eminem
Kendrick Lamar
Lil Wayne
The ultimate companion for music and photography enthusiasts, CONTACT HIGH is the definitive history of hip-hop's early days, celebrating the photographers and artists that shaped the iconic album covers, T-shirts, and posters beloved by rap and hip-hop fans today.
ABOUT THE AUTHOR
VIKKI TOBAK is a journalist whose writing has appeared in The Fader, Complex, Mass Appeal, Paper, i-D, the Detroit News, Vibe, and many others. She is a former producer and columnist for CBS MarketWatch, CNN, Bloomberg News, TechTV, and other leading media organizations. Vikki is also the founding curator of FotoDC's film program and served as the art commissioner/curator for the Palo Alto Public Art Commission in Silicon Valley. She has lectured about music photography at American University, VOLTA New York, Photoville, the Library of Congress, and the Museum of Contemporary Art Detroit.
Related Posts: