Press Releases
Comfort in an Instant by Melissa Clark
75 Comfort Food Recipes for Your Pressure Cooker, Multicooker, and Instant Pot®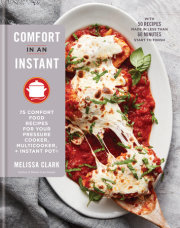 Melissa Clark
Imprint: Clarkson Potter
On sale: October 16, 2018
Price: $22.00
Pages: 160
ISBN: 9780525576150
Contact:
Erica Gelbard
EGelbard@penguinrandomhouse.com
The electric pressure cooker makes getting meals on the table fast, convenient, and utterly delicious—and with less mess and stress than any other kitchen appliance. In Comfort in an Instant: 75 Comfort Food Recipes for Your Pressure Cooker, Multicooker + Instant Pot™ (Clarkson Potter/Publishers | October 16, 2018 | $22.00 | Hardcover) Melissa Clark elevates the classics with her trademark deep flavors and special spins—without ever sacrificing ease. Recipes include:
COMFORTING MORNINGS: Quinoa Porridge with Brown Butter Almonds; Cheddar-Spinach Strata; Nutty Chocolate Oatmeal
FAST WEEKNIGHT COMFORT-PASTAS, GRAINS + LENTILS: Linguine Cacio e Pepe; Classic Tuna Noodle Casserole with Peas + Dill; Red Lentil Dal with Coconut
FAST WEEKNIGHT COMFORT-CHICKEN, MEAT + SEAFOOD: Weeknight Chicken Parmesan; Chipotle Brown Sugar Salmon; Beef + Sweet Potato Gratin
COZY COOKING FOR THE WEEKENDS: Red Wine Brisket with Prunes; Bo Ssam; Spicy Curried Lamb with Yogurt
SOUPS WILL ALWAYS COMFORT YOU: Bone Broth or Stock; Classic Matzo Ball Soup; Beef Pho with Rice Noodles + Basil
COMFORTING SIDES: Curried Collard Greens; Coconut Rice; Herbed Baby Potatoes
SWEET COMFORTS: Lemon-Vanilla Rice Pudding with Whipped Cream; Japanese Cheesecake; Bittersweet Chocolate Flans
With 75 all-new recipes—50 of which can be made in under and hour start to finish⸺Comfort in an Instant brings Melissa Clark's easy sophistication to comfort food classics for any electric pressure cooker, multicooker, or Instant Pot™.
ABOUT THE AUTHOR:
Melissa Clark is the author of Dinner and Dinner in an Instant and a staff writer for the New York Times Food section, where she writes the wildly popular column "A Good Appetite" and stars in a complementary video series. The winner of James Beard and IACP awards, she is a regular on Today and NPR. She lives in Brooklyn with her husband and daughter.
COMFORT IN AN INSTANT
75 Comfort Food Recipes for Your Pressure Cooker, Multicooker + Instant Pot™
by Melissa Clark
Clarkson Potter/Publishers
October 16, 2018
ISBN: 978-0-525-57615-0 • $22.00 • Hardcover
Related Posts: