Press Releases
Comedian Jacqueline Novak on HOW TO WEEP IN PUBLIC
Feeble Offerings on Depression from One Who Knows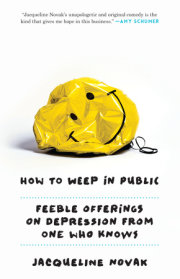 Jacqueline Novak
Imprint: Three Rivers Press
On sale: 3/1/16
Price: $15.00
Pages: 256
ISBN: 9780804139700
Contact:
Rebecca Marsh
212-572-2544
rmarsh@penguinrandomhouse.com
From comedian Jacqueline Novak, HOW TO WEEP IN PUBLIC is a laugh-out-loud parody of a depression self-help book that could inspire you to shed that bathrobe and face the world.
---
"Jacqueline Novak's unapologetic and original comedy is the kind that gives me hope in this business."
—Amy Schumer, comedian and star of Inside Amy Schumer and Trainwreck
 "A comedian who I foresee will be one of the next great stars in comedy."
—Mike Birbiglia, comedian and author of New York Times bestseller Sleepwalk with Me
"[How to Weep in Public] adds levity to the daunting topic of depression. For anyone feeling down in the dumps, a dose of Novak will help mitigate the pain."
—Publishers Weekly
Stand-up comedian Jacqueline Novak is one of Comedy Central's 2015 Comics to Watch, recently made her late night debut on The Late Late Show with James Corden, and has been featured at comedy festivals across the country. She is also a self-proclaimed "depresso," and in her irreverent and darkly funny new book, HOW TO WEEP IN PUBLIC: Feeble Offerings on Depression from One Who Knows (Three Rivers Press; Trade Paperback Original; $15.00; On Sale March 1, 2016), she offers tongue-in-cheek advice for relishing rock bottom and its many wonders.
HOW TO WEEP IN PUBLIC is all about leaning into depression and making the most of a cat hair–covered life. Instead of shaming you or giving false promises, Novak will help you explore the rich facets of a depressed life. As she writes in the introduction, "Think of it this way: while most books on depression try to help you win the war, this one is merely a cigarette in the trenches . . . a bit of comfort from a fellow soldier."
 Even if you're not suffering yourself, you can learn from and laugh along with Novak's journey. Join her as she experiences the ecstasy of slurping marinara sauce straight from the jar, discovers the best wedge pillow options, and pursues the art of sad-faced seduction (lowered standards and yoga pants strongly encouraged). In her unique and playfully candid voice, Novak shares her absurd stories and counsels readers on important topics like how to manage life from your bed. She follows the journey of the "depresso" from babyhood to adulthood, in chapters such as:
Let's Make a Family Tree: Where Every Fruit Is a Mood Disorder
Hell Is Other Kids: Develop a Social Anxiety on the Playground That Will Come in Handy as an Adult
The Pharma Shuffle: Go Off and On and Off and On Various Meds in an Endless, Shoddy, Poorly Organized, Barely Controlled Experiment on Your Own Body
Socializing for the Burgeoning Depressive: Or, I Have Nothing to Offer, So I Brought Nothing to the Party
Home Is Where You Cry the Loudest: The Depressive Decorates
With Novak as a guide, you'll learn the advantage of embracing gloom early on, the joy of performing for your first therapist, and the struggle of keeping a real-world job while sleeping twenty hours a day. She reveals how to flourish in every scenario, even if (nay, especially if) you don't quite feel like putting on a happy face.
HOW TO WEEP IN PUBLIC is the perfect place to shore up between self-help books. Laughter may be the best medicine, but Novak isn't trying to cure your  depression or force you into the real world before you're ready; she'll just keep you company for a little while as you read this book from the fetal position. After all, that's exactly how she wrote it.
###
 ABOUT THE AUTHOR
Jacqueline Novak is a stand-up comic and graduate of Georgetown University who has been featured at comedy festivals across the country. She was named one of Comedy Central's 2015 Comics to Watch, as well as a "New Wave Woman" by Pandora. Novak's comedy album, Quality Notions, was released in 2014. She co-hosts a weekly comedy show at the Cake Shop, which the Village Voice calls "achingly hip," and counts Amy Schumer, Lena Dunham, and Mike Birbiglia among her fans. Novak lives in New York.
Related Posts: