Press Releases
Collaborate or Perish! by William Bratton and Zachary Tumin
Former police commissioner William Bratton and Harvard Kennedy School's Zachary Tumin join forces for the ultimate blueprint on collaboration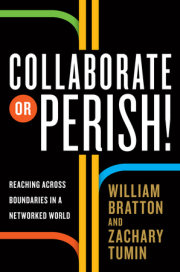 William Bratton and Zachary Tumin
Imprint: Crown Business
On sale: January 17, 2012
Price: 26.00
ISBN: 9780307592392
Contact:
Campbell Wharton
(212) 572-2296
cwharton@randomhouse.com
In their new book, COLLABORATE OR PERISH! Reaching Across Boundaries in a Networked World (Crown Business, on sale January 17), William Bratton, Chairman of Kroll and former Los Angeles police chief and New York City police commissioner, and Zachary Tumin, senior researcher at Harvard Kennedy School's Belfer Center for Science and International Affairs,  lay out a field-tested playbook for collaborating across the boundaries of our networked world. Based on their extensive experience in the field and the classroom, Bratton and Tumin have joined forces for the ultimate guide on collaboration, a streetwise blueprint for industry, government, and citizens taking action on the crucial challenges of today.
Bill Bratton is a global leader and voice for citizens, government, and industry collaborating for safety and security. Favoring engagement over confrontation, Bratton's strategies have for decades helped industry, governments, and millions of citizens around the world unleash the power of collaboration. As a leader in the financial services industry and researcher at Harvard Kennedy School, Zach Tumin has led generations of senior executives dealing with urgent national challenges of defense and intelligence, safety and security, and education and public health.  The lessons learned in classrooms and executive sessions are shared here: collaboration is the only winning strategy.
Together, Bratton and Tumin draw on in-depth accounts from Fortune 100 companies such as Alcoa, Wells Fargo, Harrah's, Visa, and Toyota; from masters of collaboration in education, social work, and the military; and from Bratton's own storied career. Among the specific strategies they share:
• Start collaboration with a broad vision that supporters can add to and make their own
• Right-size problems, and get value in the hands of users fast
• Get the right people involved—from sponsors to grass roots
• Make collaboration pay in the right currency—whether recognition, rewards, or revenue
Today, when everyone is connected, Bratton and Tumin argue, collaboration is the game changer. Yet companies and managers face unique challenges—and opportunities—in reaching out to others. Technology helps makeit happen; but people make the difference. Agencies and firms, citizens and groups who can collaborate will thrive; those who go it alone will perish.
In COLLABORATE OR PERISH!, Bratton and Tumin provide practical strategies anyone can use to break the go-it-alone mindset, and achieve success together. From the cubicle to the boardroom, this is the ultimate guide to getting things done in today's networked world.
ABOUT THE AUTHORS
WILLIAM J. BRATTON is chairman of Kroll, one of Altegrity, Inc.'s three core businesses. Mr. Bratton joined Altegrity in November 2009 after serving as chief of the Los Angeles Police Department for seven years. Prior, he served as chief of the New York City Transit Police and commissioner of the Boston Police Department and the New York City Police Department. A frequent lecturer, writer, and commentator, Mr. Bratton also serves on the Motorola Solutions board of directors. In 2009 Her Majesty Queen Elizabeth II recognized Bratton with the honorary title of Commander of the Most Excellent Order of the British Empire (CBE).

ZACHARY TUMIN is special assistant to the director and faculty chair of Harvard Kennedy School's Belfer Center Science, Technology, and Public Policy Program, the most recent of several key posts that Mr. Tumin has held at the school. In addition to leading research programs and executive teaching at Harvard, Mr. Tumin served in senior executive roles for industry and government, including as director of the Financial Services Technology Consortium, and head of public safety for the New York City public schools. A frequent lecturer, Mr. Tumin is also author of numerous teaching cases, working papers, reports, and essays.
Related Posts:
You Might Also Like